Fall weddings are coming quickly around the corner. If you are planning one, you are gathering your unique ideas to host a cozy detailed wedding and reception that will leave your guests in awe. This fall, strive for the coziness of fire and candlelight, cream and natural colors, and basins filled with your favorite drinks to create your dream wedding.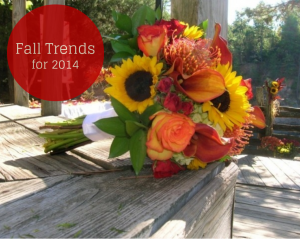 During fall, season leaves are starting to change into their vibrant last color before winter and the air is left with a cooling breeze. It's the perfect season to show off our perfect natural landscape, which can play beautifully into weddings.
For outdoor weddings:
Use what the world has given us. Use the trees for backgrounds, old bridges as your aisle or even your own land with an ivy over grown arbor.
Play off the natural colors with neutral colors that only highlight the outdoor surroundings.
Use barrels down the aisle filled with your favorite flower to add a dramatic/rustic look to your wedding.
Continue the reception outside; the guests will not want to go indoors trust me, unless the weather doesn't want to corporate.
If it's chillier than normal, offer blankets, shawls or fire pits for the ceremony and reception.
For indoor weddings:
First off, I am in the same boat with you girls. I am having an indoor wedding in the winter (different season I know), but who says you can't recreate the outdoors inside? So, my first pointer is to…
Recreate the outdoors with trees, plants, fall leaves, and more.
Make chandeliers out of twigs, leaves and candles (battery operated for safety).
Use gingham on anything you can find. Ok, maybe a little rash, but gingham in your wedding colors is a perfect fall look.
Look for venues that have a cozy feel, that being a fire place, a place for a fire pit or a smaller vintage room.
Whatever you decide to do for your upcoming fall wedding send us your pictures at social@weddingandpartynetwork.com. We would love to feature you on our blog!