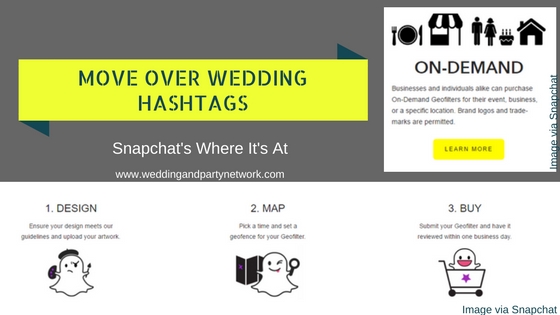 By now you've seen all kinds of #wedding hashtags.  From the cliche #JohnandMary2016 to the crazy #WeTiedtheKnotNowLetsBoogieDown, brides are stressing over a special hashtag that no one else has.  But there's a new craze on the rise.  One that is a little more personalized:  Snapchap Geofilters.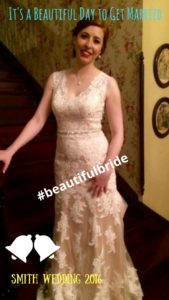 Earlier this year, Snapchat began allowing its users to design custom Geofilters.  Now you can design your own Geofilter, just for your big day (or bachelorette party)!  It costs as little as $5 and there are a few guidelines to follow, but now your friends can snap pictures and apply a special filter you create.
The process is fairly simply, and Snapchat even has some templates to help you out.  The first step is to design your filter.  Snapchat suggests not covering too much of the screen and to make your filter fun to look at.  Also, you are not allowed to include photographs of people, phone numbers, hashtags or social media handles on your filter.
After you have your design, you need to decide when and where you want Snapchat to activate your filter.  The cost of your filter will depend on these factors, so make sure you know when the filter should go live as it is only available during the time you set.
Now you are all set to submit your filter to Snapchat for their approval, which takes about one business day.  You are not charged for your filter until the time it is scheduled to go live.
Plan to create you own Geofilter?  Let us know!
Still searching for the perfect venue?  Let us help!