Volume 3 Issue 4
Create A Personalized Wedding
We all know that planning a wedding is stressful. There are so many details to plan out and research that it can be overwhelming. However, it's all worth it in the end. Yet, when planning a wedding, are you faced with how to make your wedding your own? You research for many hours and some how find that a lot of weddings sort of look the same. Are you stumped on how to make your wedding more personalized towards you? Well, Wedding and Party Network has a few tips that will help you personalize your wedding.

1. Create A Wedding Logo – Create a personalized logo that shows off a personal symbol and a monogram that you can put on your wedding invitations, programs and display at your wedding reception. No one else will have anything like it.
2. Personalize The Venue – Don't settle for a wedding venue that is just standard. Research different type of venues and locations that truly fit your personality. Find a rustic barn, hold your wedding ceremony near water or even have your wedding at a zoo. Next, personalize your site with engagement photos and baby photos. Even incorporate fun hobbies that you both share. By doing this, your wedding reception will truly be customized towards your personality and your grooms.
3. Thoughtful Gifts – There are so many people who you want to thank on your wedding day and even some where gifts are appropriate. Therefore, don't give the normal thank you gifts, get creative. Of course, you may want to stick with the traditional gift like a bracelet or flask, yet have it engraved with a personalized message that is important to you and the recipient.
4. Customize The Wedding Ceremony – Have your close family and friends take part in the wedding ceremony. Have them recite a favorite poem, sing a memorable song, cherished passage or even have the act out a scene for a truly fun twist on your wedding. This is your day, so make it yours.
5. You Can Personalize Anything – Yes, you can personalize anything you want! Flowers can be personalized with your favorite colors and you can even include a personable item within your wedding bouquet and arrangements, food can be custom designed for your taste buds, your wedding cake can feature something unique on it and whatever else you want to include on your wedding day.
Just remember, this is your wedding day. Of course, you want it to represent you and your groom. So, include your great personality throughout your wedding that will make it one-of-a-kind.
If you are planning a wedding, let Wedding and Party Network help!

What To Do When You Get Engaged?
You're engaged, congratulations on this big event in your life! This is a big deal in anyone's life. You have a million little things running through your head and you're wondering where you even begin. Yes, when planning your wedding, there are a ton of little details that you must take care of to make it perfect. Read more about What To Do When You Get Engaged
Tips On Wedding Gown Alterations
When it comes to your wedding gown, it needs to be perfect on your big day. This is the day that you'll remember forever, therefore, everything needs to be just how you've dreamed of ever since you were a little girl. With not every girl having the same body type, your dress won't be fit your body type. Read more about Wedding Gown Alterations
7 Big Things Not To Forget
When it comes to planning a wedding, there are a million and one things that you must plan. With so much going on, there's bound to be something that could slip through the cracks that you may not remember, which is definitely understandable. Read more about 7 Things Not To Forget

Should You Elope?
Planning a wedding is stressful. Yes, stress comes with planning a wedding, it's that simple. When brides see how much planning and stress comes with a wedding, they immediately think about eloping. This is not a bad idea and it could be a wonderful idea if it's fit for you. Read more About Eloping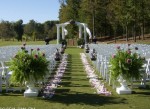 Tips For Your Engagement Pictures
One of the first steps you take when planning your wedding is taking engagement pictures. These are used for so many things throughout the wedding process. They are fun to take and a great starting off point for the wedding. When planning your engagement pictures, you want them to show off your personality and style, especially since they are used for save the dates, bridal showers and displayed throughout your wedding reception.Read more about Tips For Your Engagement Photos

Find Inspiration For Your Wedding Dress
When it comes to planning your wedding, you look towards the latest trends. You want the latest styles, yet something that suits your personality and wedding. This goes for every little detail that you feature in your wedding.
Read more about Finding Inspiration For Your Wedding Dress



When it comes to planning a wedding or special event, it's all about the details. It's important that everything within your wedding tells your story. The colors, wedding decor, wedding cake and wedding flowers are all combined together to tell your story.
Read More about Barry's Flower Shop Inc.

Let Spectrum Photo Capture Your Special Moments In Life
When it comes to the special events in your life, you want to remember them forever. The best way to do this in through photos. Pictures tell your stories and capture great memories that you can remember a lifetime and even pass them down from generation to generation. Finding a skilled photographer to capture these special moments in your area is a must, especially one that does a fantastic job. Read more about Spectrum Photo

Let The Vine Create Your Picture Perfect Event
Planning your wedding is a special time in your life. Everything must be perfect for your wedding, including your wedding dress, wedding flowers, decor, location and your wedding catering. All of these items combine to create the wedding that is fit for you. It also tells your story. This day is one that you'll remember a lifetime. Read more about The Vine

Wedding Ceremony (Dream Caters Flowers & Events), Wedding Cake (Debs Darlin Flowers, LLC), Reception Centerpiece (Imperial Flowers), Lace Wedding Gown (Black Tie Affair), Wedding Ring (Simple Pleasures), Wedding Bouquet (Barry's Flower Shop Inc.) Groomsmen (BJD's Photography) Groom's Cake
For more vendors in your area, visit Wedding And Party Network for all of your wedding and party planning needs!