Volume 3 Issue 9
Planning a Fall Wedding
Are you planning a fall wedding? Find great inspiration from the beautiful fall colors and all the changes that comes with the season. However, there are some key elements to keep in mind when you're planning your wedding. Wedding and Party Network has a few tips and fall wedding ideas that will make your wedding day one to remember.
Need Some Advice?
Like every wedding, you may need some helpful tips and advice for planning a fall wedding. Fall means back to school for many. Therefore, keep in mind that parents may be affected by Friday night football games or after school activities. Also, be mindful of the weather. It can be pretty unpredictable. One day it is hot, the next it's cool and the next day it may be hot again. You never know about the temperature or even rain. So, be prepared for it all. Have portable fans and even heaters on hand. You may need both. Also, consider giving umbrellas as wedding favors if you think it may rain.
Fall Wedding Ideas
Add some fall elements to your wedding. It can be subtle details, like adding a few acorns, maple leaves, wheat or a cornucopia to your wedding arrangements or add a tree silhouette to your wedding invitations. It's also neat to add cabbage, gourds, pumpkins or bales of hay to your wedding decorations. Consider the colors of fall. You can incorporate orange, gold, brown, mustard or even eggplant. There are some beautiful colors and can be paired with silvers, gold, metallic or even jewel tones, which are on trend this season.
Keep it in Season
Consider what's in season. For example, hypericum, thistle, mums, sunflowers and garden roses are all in season and would make lovely additions to your wedding bouquet, reception centerpieces and wedding arrangements. You can also create texture and depth by adding a few pears and apples to your arrangements. Another great thing about fall is being able to use unique vases for your flowers, like pumpkins, rustic lanterns and terra cotta pots to create a fall wedding. Don't forget to consider what meat, vegetables and fruits are in season for your wedding menu. It's always best to use the freshest ingredients. Consider the ingredients for your wedding cake too.
Fall weddings are absolutely gorgeous and there is so much you can do with them. Just keep in mind what comes with fall, like the weather and fall activities and always be mindful of what's in season. Your wedding will be unforgettable.
If you are planning a fall wedding, let Wedding and Party Network help!

A Touch of Boho
Everyone has their own personal style. This certainly shows through with what you wear, your personality, parties you host and especially the wedding that you plan. There are so many styles out there, you just have to learn how to show it through your wedding.  Read more about A Touch of Boho

Wedding Trends for Fall 2012
When planning your wedding, you always see what's on trend. There could be new and emerging unique trends that will truly tell the story of your wedding. So, are you planning a fall wedding? What are the new wedding trends for 2012? Read more about Wedding Trends for Fall 2012

Fall Wedding Flower Trends
Flowers are such an important part of any wedding. They depict your wedding style while showing off your personality. They are also accessories to your wedding ceremony, wedding reception, bridesmaid & groomsmen attire and most importantly your wedding dress. Read more about Fall Wedding Flower Trends

Fall Wedding Tips
Planning a wedding this fall? Like every wedding that is planned, there can be a few hiccups and rules to follow during each seasonal wedding. So, what are some fall wedding tips that will make your day run more efficiently and smoothly? Read more about Fall Wedding Tips

A Circular Wedding Trend
Do you look towards wedding trends in finding one that will suit your wedding? Trends come and go, especially within weddings. There are some within wedding colors, wedding flowers, venues and even how your wedding is set up for the ceremony. Read more about A Circular Wedding Trend

What to Pack – Winter Honeymoon
Are you planning for your honeymoon? What do you plan on packing? This is key. However, most people assume yo are going to some tropical, remote location where you'll lay out on the beach the whole time. This isn't for everyone. Some couples find a winter getaway more appealing than anything.
Read more about What to Pack for a Winter Honeymoon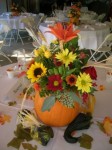 Your Dream Dress is Waiting at Camarillo Bridal
Your wedding day is extremely important. Everything should be up to your standards and represent your style. One of the most important elements of your day is your wedding dress. Your wear it, so it should fit you while showing off your style. Read More about Camarillo Bridal

Let Tri-County Barbeque Catering Cater Your Next Event
When planning an event, every element is important to carry out the theme of your party. The color, decor, venue and even the food all represents your event. Food is one of the most memorable items at your event. Read More About Tri-County Barbeque Catering
Always Ride in Style & Confidence with Thomas Limousine SVC
Who thinks of transportation when you are planning an important event? They may not be high on the list for some, but it's truly an important element of any event. You must think about how you will get to and from events and having someone drive always is much easier. Read more about Thomas Limousine SVC

Fall bridal bouquet (Heartfelt Blossoms), Fall wedding bouquet (Flowers Plus), Fall wedding cake (Design House of Flowers), Outdoor fall wedding (The Enchanted Florist), Garden wedding ceremony (Castle Ladyhawke), Outdoor fall reception (Flowers Etc. of York), Pumpkin centerpiece (Flowers Plus)

For more vendors in your area, visit Wedding And Party Network for all of your wedding and party planning needs!