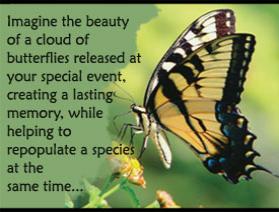 Celebrate a birthday with butterflies!  Have a BUTTERFLY BIRTHDAY BASH releasing live butterflies.  When planning a butterfly themed birthday party, keep in mind that the temperatures need to be above 60-65 degrees for your butterflies to fly.
It is recommended that the birthday party participants be 5 years of age or older.  A few suggestions include making a butterfly-shaped birthday cake.  Instructions can be found on the internet or created by your local bakery.  Give the guests some packets of easy-to-plant butterfly garden seeds to take home. You can order child-sized or adult-sized butterfly wings from several companies.  A pair of bug glasses and some handmade antennae would complete the outfit.  The guests can make a butterfly craft during the party.  The grande finale would include an outdoor butterfly release.  Each participant can release one individually, or you may choose to release them all at one time from a decorative cage.  You may want to have someone else plan your butterfly party as your time may be limited.
Article written by Linda Marchman, owner of Social Butterflies. She has raised butterflies for seven years and is a director of the Association for Butterflies, a member of the International Butterfly Breeders Association, the Butterfly Society of Virginia and is a Certified Master Gardener.

This information about butterfly releases was brought to you by Wedding and Party Network, your leading resource for planning weddings and parties.