Now that the April showers are over, it's time to celebrate the May babies! May is the time to welcome the warm weather, admire the spring flowers, and to celebrate May birthdays! 
The first step to creating the best birthday party is to put yourself in their shoes. What kind of things does this person like and what kind of party should you throw them? It's easy to throw a party that you would love, but you have to make sure it's a party the birthday boy or girl would love too.
Taurus and Gemini are the two zodiac signs associated with May. A great way to make sure you're throwing the best birthday party for them is to understand them a little. Taurus and Geminis are almost polar opposites, so make sure you do your research!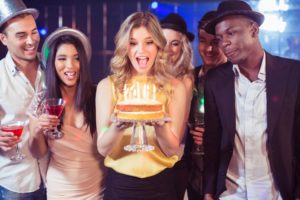 Geminis are known to be social butterflies, so you want to make sure you throw a party that is filled with all the people they love. They are also known to be the life of the party, so just having a Gemini around will make anything fun! Geminis thrive on socializing and excitement. A great idea for their party would be to have it in an area large enough for all their guests and to fill the room with exciting decorations. Stick with decor that is fun and colorful, just like a Gemini.  A great way to celebrate Geminis and the warm weather would be to throw an outdoor party. Firing up the grill for a backyard birthday party would be perfect for a Gemini. They love people, so no matter what you do for them, as long as they're surrounded by people they love, Geminis will always remember the party you throw for them!
Unlike the Geminis, Taurus are known to be more mellow and relaxed. They would be a lot more comfortable with a small, intimate birthday party. They would appreciate you inviting their closest
friends and keeping the party small. Taurus love to connect with people and believe it is easier to do so in smaller crowds. Taurus can be a little selective, but that's why they have such great friends. They also would like a party that is more predictable; they really don't like surprises. A nice dinner with some cocktails would make for a nice, classy get together that a Taurus would absolutely enjoy. Throw a Taurus something sweet and simple, and I guarantee they will love it!
Planning a party for someone doesn't always have to be hard! Being able to understand the person you're throwing a party for can make this task so much easier. Whether the person you're throwing the party for is chill and mellow or extroverted to the max, they will appreciate being celebrated and will never forget the party you threw for them!
Check out our vendors for all of your birthday party needs!