Mardi Gras is the key time of year for anybody who loves a good party. The streets of New Orleans are filled with carnivals, beads, drinks, and revelers out for a wild time. Can't make it to the great state of Louisiana this Mardi Gras? Throw your own festivities at home!
Turn your home into a Bourbon Street dwelling. 
A lot of purple, green and gold are all it takes to instantly turn your house into the perfect Mardi Gras setting. Create a photo backdrop with a wall of balloons or ribbons and sprinkle Mardi Gras confetti on any and every surface. For even more fun, sprinkle around some confetti or ribbon on the floor to make it look like the party has been going on all day!
Beads are a staple of any Mardi Gras party. Buy large packs and drape them on chairs, ceiling fans, tables, hooks on walls and of course, around your guests' necks as they enter.
Make it a masquerade.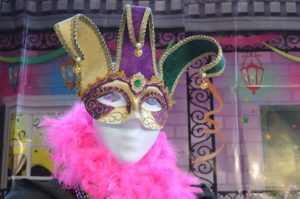 Masks are another tradition of Mardi Gras and you can easily make your own with friends! Set up a side table with paint, sequins, glitter and feathers with various white masks that your guests can paint. Wear for the rest of the party and spice it up with a contest–winner can take home a fun favor like a New Orleans shot glass!
Bring home the taste of New Orleans.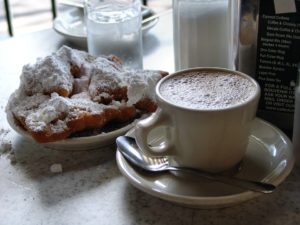 No New Orleans themed party would be complete without traditional Louisiana recipes.
Try your hand at some scrumptious gumbo-chicken or shrimp- and cook in batches large enough so guests can take some home. There's nothing more Southern than sharing the love!
For dessert, you can't go wrong with beignets and coffee. Everybody will be going back for seconds.
No matter what, don't forget the drinks!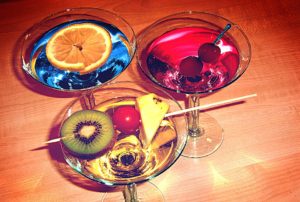 What would Mardi Gras be without drinks?
Create a separate space for guests to create their own cocktails or offer up a large punch bown (green or purple punch to follow the theme!). Even more fun, have a station set up for Hurricanes mixed in plastic fish bowls, just like they do on Bourbon Street.
There's no reason to fret if you can't travel to New Orleans for Mardi Gras 2017. Your friends will have a blast when you put together a party using these easy tricks!
Add some extra spice to your party with a DJ or live music!