Have your kids been working hard all year and are ready for the summer break? Summer is coming in hot, and it's time to award your kiddos! So crank up the tunes, fire up the grill, and get ready to officially start your summer off by throwing an end of the school year bash! We have a few tips to help throw the best party that might even win you the title of the parent of the year! 
Tip #1:  What's your theme?
To make party planning easy, start out by picking a theme. What better way to splash into summer than with a splash party?! If your party consists of water and running around, you've already
won the kids over! Let them slide their way through summer by adding a Slip 'N Slide. Have little pools set up and sprinklers to give the kids more places to cool off, and your backyard will be looking like a miniature water park in no time! Now that you have your theme picked out, it will be a breeze to decorate. Just have beach balls, water balloons, and water guns galore, and you will be set! You can also add a water-themed backdrop or create your own backdrop out of water balloons– this will be a great set up to get a fun snapshot of your kiddos! Another way splash up your party is to add a water gun station. This will make their water war feel more intense and also will be great for decoration! Just set up a table with water guns and have a bucket full of water for them to refill their water guns.
Tip #2: Provide yummy food
Running around and playing in water always seems to make the kid's bellies rumble for food. Since you're cooking for children, make the menu simple. Hot dogs and hamburgers will do the trick.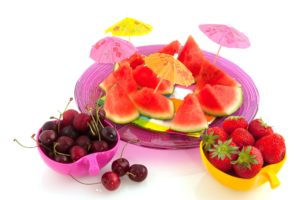 Set up a table with a tablecloth that goes along with your theme — a blue one would be great! Provide fresh fruit such as strawberries, watermelon, and grapes to keep the kids fueled up throughout the day. Make sure to add candy to your menu, because a kid's party isn't a party without candy!
Tip #3: Keep it cool
What goes better with the summertime heat than a nice cold treat? Maybe water, but a cold treat is a close second! Set up another table by the food and have a bucket filled with ice and popsicles. Popsicles are refreshing and not too much of a mess. You also need to provide cold beverages to stay hydrated in the summer heat. Set up an inflatable pool and add ice, waters, and Gatorade! This will be a nice touch to your theme and also make it easy for the kids to grab a drink and go!
Tip #4: Let the games begin
To keep everyone entertained, provide activities for the kids. Not everyone can be on the Slip 'N Slide at once, so make sure to have several activities to keep the party going. Lay out five large bowls that have a number attached to them. Each number represents a number of points. Whoever pops the most balloons in the bowls with the highest amount of points is the winner. Another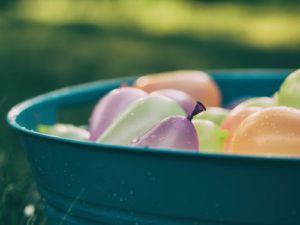 fun game to play would be hot potato but balloon style. Freeze a water balloon and have the kids toss it around to each other. When the music stops, the person holding the balloon is out. You can also create some kind of obstacle course around the yard, depending on how much room you have. If you want to keep the party simple, having a sprinkler system, water guns and balloons will be enough to keep the momentum going.
Tip #5 Play it safe
The last tip we have for you is to keep the kiddos safe. Make sure to have plenty of sunscreen to protect their skin and to avoid having anybody looking like a lobster! Also, make sure to have a first aid kit in reach. You never know what could happen, especially with a group of kids who have been waiting for summer all year long!
Lastly…
Your kiddos have been working hard and deserve to bring in the summer with a splash! Planning a party for your kids doesn't have to be a headache — all you need is a little bit of water! Follow our tips, and you'll have all the kids thinking you're the "cool parent"!