Ever since Animal House made "Toga! Toga! Toga!" famous, the toga party has become a rite of passage for party lovers around the world. With its popularity on college campuses, it's no wonder it has acquired a questionable reputation.  Don't let this ruin such a fun party theme! Wedding and Party Network knows just how to create a classy mixer from this classic party theme, promising to give your club or Greek organization an Olympic image.
Amp Up the Theme and Transform the Toga Party
The Invitations
To take your toga party to the next level, start with an elegant invitation. Use rich colors, specially gold, and a font which looks like calligraphy. Choose your wording to match the Olympic theme with something like, "Athena (or whichever Greek god or goddess you choose) requests your presence on Mount Olympus for a night of food, drink, and music." Bonus points if you have them printed on scrolls and hand-delivered!
The Costumes
The best thing about a toga party is the costume. Togas are easy, affordable, and fun costumes that all of your guests can easily put together. There will be those who are reluctant to surrender themselves to the toga, so help them out. Offer to help guests with their toga 20 to 30 minutes before the party starts so no one has to worry about making their own.
Encourage guests to make their most inventive Greek god or goddess costume for an elegant twist to these classic costumes. To reward guests for their efforts, have several thrones set up throughout the venue and have those with the best costumes claim their right to the throne. These thrones would also make great photo backdrops.
The Decorations
For the Mount Olympus party theme, the decorations are very manageable. Start collecting sheets and pillows in deep reds, blues, creams, or white.  Ask friends if  you can raid their linen closets and search your local department store. Drape the sheets over seating and hang it from the walls. Cover the floor with the pillows for a simple, lush detail. If you have any stone statues or pillars, these will be perfect accents to the decor.
You can also check your local party store for the perfect Greek pieces. To add the Mount Olympus touch, think paradise. Collect potted plants and trees and fill the area with greenery. String lights can add a magical touch. It's as simple as that!
The Food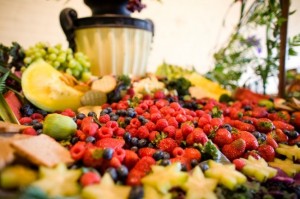 Depending on how formal you want the event to be, you can really make your toga party with the food. Of course grapes, cheeses, and olives are all perfect matches for the theme; but to really step up your game, don't hold back. Wherever you serve your food, make sure to give it the appearance of abundance. An overflowing buffet will give your toga party an unforgettably extravagant touch.
Fill golden bowls past the rim with apples, pear and oranges. Have grape bunches of different colors hanging over the edges of the table and platters.
It doesn't take a huge budget to achieve this look. If you are lacking enough food for the "overflowing" style, find smaller containers and tables. Remember, it's about achieving a lavish image without breaking the bank!
Why stop with the food? Build a chalice tower of sparkling cider for a party without alcohol, or your favorite wine for those wanting some harder drink. Just remember, keep it classy!  The chalices will give the powerful tone of the gods and the overflowing cups will delight guests.  If you really want to impress, hire a catering service to meet all of your guests culinary needs.
Speak with your local caterers and see who specializes in Greek food and if they could provide some waiters to serve your demigod guests – maybe even in their own togas!
The Party Favors
When they come to your Mount Olympus party, your guests are going to want to feel like gods and goddesses. So give them what they want! Party favors can make your guests feel like royalty and leave with a reminder of how great your event was. A laurel wreath is the perfect addition to any toga costume, but not all of your guests will know how to make one. Hand them out as party favors and guests will be ecstatic. Don't forget these are gods and goddesses, so paint your laurels gold with spray paint for a luxurious touch.
Around the room you can also have fun, themed props.  Cut out and paint some lightning bolts for the Zeus-lovers and place roses around the room for your Aphrodites. Golden bows, spears, hammers, and other weapons will be perfect for warrior gods. Whatever you use, just make sure it's fun and sticks with your Mount Olympus theme.
The Entertainment
hire music entertainment
worthy of the gods.
For games,  why not look on the local sports channel? The Greeks claimed the root of the ancient Olympic games were their gods. While many stories circulate about the Olympics' origin, the purpose always remained to serve the gods and bring peace and harmony to the lands.
Organizing your own Olympic games would be a fun way to get everyone involved. Traditional games included foot races, long jump, discus throws, and other sports in today's track and field competitions.
For a simpler take on this, think of fun, picnic relay races. Sack races, water balloon tosses, or a football throwing contest would be fun for everyone.
Everyone loves a good toga party, so it won't be hard to delight guests with this classic party theme. When you transform it into this elegant Mount Olympus party, you open up your event to impress everyone in attendance. The Mount Olympus theme is perfect to introduce your sorority, club, or organization to the masses. While they're having fun partying in a toga, they won't forget that you made such an impressive party out of Animal House's old party theme.
This post is brought to you by Miami Party Invitations
Not in Miami, FL? No worries, use Wedding and Party Network's handy party planning directory to help you find party invitations near you!
Greek party decor via Momentary Madness