Empty houses abound in the once densely populated city. Zombies are now all that remain in this decaying suburbia. With no more humans to devour, what better way to enjoy these empty spaces than to throw a ZOMBIE PARTY!
HOW TO THROW A ZOMBIE PARTY FOR UNDER $40

Zombie parties are the easiest way to throw an impromptu Halloween party. The decorations are easy, in fact, you don't really have to decorate at all. (But it's a lot more fun if you do!) Keep reading for more on how to throw an amazing zombie party with decorations, zombie-themed food, and easy zombie make up for under $40!
+ zombie party decorations
Zombie party decorations are the EASIEST! You just have to make your house look wrecked and messy. (Gee, that's not hard to do!) You want your house to look like it was quickly abandoned.. For this you can do as little as turning over some chairs or as elaborate as actually boarding up your house.. It's up to you, be creative! (note: we are not liable for any damage you might do boarding up your windows :P)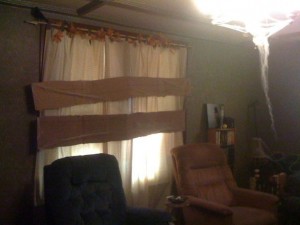 Here are a few suggestions that I did for my zombie party last year:
FAKE BOARDS – The last, uninfected humans used boards on their windows to keep the zombies OUT! Our fake boards give our party the same look and feel.
For our fake boards, we used recycled cardboard boxes from our local grocery store.
Cut the cardboard into 1½' strips about 4" wider than your windows
Draw on them with markers, like so:
Attach the boards to your windows with masking tape. (Be careful not to use tape that might hurt your window frame or wall.)
For curtains – I have long curtains that I really didn't want to take down and put back up, (lots of windows and I'm short!) I taped safety pins to the back of my 'boards' and just pinned them to my curtains.
Other Places: Don't forget to board up other places that zombies might enter. I also boarded up my fireplace!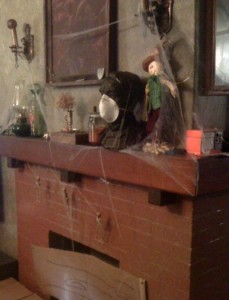 COBWEBS: Your house has been abandoned for a while, there are cobwebs all over.
You can find fake cobwebs at almost any store that sells cheap Halloween decorations. String your cobwebs up all over your house, or at least anywhere your guests might enter.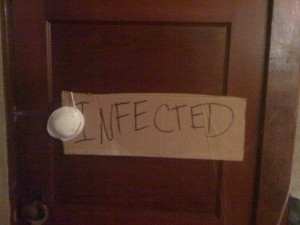 FACE MASKS: The last humans would have tried to protect themselves from the z-day infection with face masks.
I figured whoever lived here, I bought a package of face masks from my local hardware store and placed them around my house. I have a few busts that decorated with face masks as well.
WARNING SIGNS: No doubt there would be signs warning of the zombies.

Out of the same cardboard used to make the fake window boards, I made warning signs: Quarantined! Beware! Zombies! Infected! Captured! …you get the idea.
+ zombie party food ideas
For the best zombie party food, just think, "If I were a zombie, what would I eat?" This might bring to mind things like, brains, fingers, toes, eyes. Well, now think of creative ways to recreate them in food!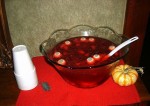 EYE BALL & BODY PARTS PUNCH – Make your favorite red punch and float gummy eyeballs and body parts in it. (Add rum to make it even better — adult zombie party!)
LADIES FINGERS – Carrots, String Cheesesticks, Cream Cheese, Green Peppers.
Use carrots and string cheesesticks as fingers.
Carve little lines in the center of your fingers for the knuckles.
Cut a small notch in the end for the fingernail bed.
Use cream cheese as 'glue'.
Cut green pepper into a  fingernail and stick to the cream cheese.
GLOOMY DIP – Gray is always a gloomy, moldy color. Add a few drops of black food coloring to the ranch dip in a vegetable tray to make a very gloomy, yet delicious dip.
GUACAMOLE – Make regular guacamole dip, it's gross enough.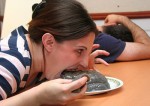 BRAINS JELLO – There are lots of unique jello molds out there just perfect for a zombie party! Check out this brain jello mold from Think Geek. You can make your jello opaque by using a little condensed milk or cornstarch. Use unflavored gelatin for pure white! Add fresh fruits like strawberries, cherries and grapes to make something horrible, yet delicious and healthy. 🙂
Your Zombie Party Food Table
Table Cloth – Sheet with fake blood stains
Table Accents – Plastic mice, spiders and gummy worms and bugs
Lighting – Lots and lots of candles! Find old candelabras at thrift stores and burn a few cheap candles before your party to add lots of melted wax.
If you want to skip the work of making party food, call your local caterer and ask if they will create a unique zombie party menu for your part!
+

zombie makeup how-to

Probably the easiest Halloween costume to create is a zombie costume. You can wear your day-to-day clothes and just add blood to them. Fake cuts, bruises and bites are easy too!

Zombie Makeup How-to
Use dark eyeshadow to create bruises. Blend together a mixture of black, gray, purple, and green, if possible, for an authentic look.
Use ladies blush to create red  areas around your bruises, also around your eyes.
For Cuts & Gashes
Paint a layer of white glue on the area you want to make a gash.
Stick tiny pieces of torn toilet paper to the glue
Paint another layer of glue on top of the toilet paper.
Continue adding layers of toilet paper pieces and glue until it's about 3-5 layers thick, depending on the size.
Before the last few layers dry completely tear a tiny gash into the middle. Be careful not to tear all the way threw.
Paint the wound with fake blood.
Paint the outside edges with makeup and bruises.
Pour extra fake blood into the center of your wound and let it drip down for an authentic zombie look.
+

zombie party under $40!

So lets recap:

Zombie Party Decorations:

Recycled cardboard – free
Cobwebs – $1.00
Facemasks – $2.00
Glue & Toilet Paper – free (Hopefully you have this at home.)
Makeup: Eyeshadow/Blsuh – free (Should either have these at home, or you could probably borrow them from mom or a friend.)
Food – $37 budget

Not too bad! Zombie parties are GREAT way to get friends together for a night of ghoulish fun. Your zombie party doesn't have to be on Halloween, you can throw a party anytime!