Some of the most treasured possessions in a home are the photos of "the way we were." Photos of when the kids were infants, marriage photos, and photos of when the two of you first met bring beloved memories to life. Photos are the best way to look back and remember what is most important to you. They show the important steps that have brought you to this point in your lives together.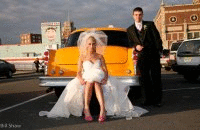 Choosing a talented professional photographer to capture such important memories is crucial. A photographer must be able to see what you see in the ones you love, as well as put a special spin on that view to elevate a simple photo to fine art. Bill Shaw of Art of Photography in Hackensack, New Jersey, does just that. His photos illustrate the very best of your memories in spectacular photos.
As a wedding photographer, Shaw makes it a point to listen to his clients to understand who they are as a couple and what they want. As a professional, Shaw delivers on this goal every time.
Shaw has the skill and patience to capture moving photos of babies and small children. These portraits reflect a a child's  innocence and personality and will be treasured for a lifetime.
For Shaw and Art of Photography, it's about seeing the world through his clients' eyes and capturing those memories in a way that will bring back them alive every time they are viewed.