What better way to treat yourself than to hire a limousine? The old saying "It's about the journey, not the destination," comes to mind when considering a limousine. Instead of having one very generous (or rather, unlucky) friend agree to drive, a limo can take you to and from your big night out in style. With Diamond Limousine Service, you can rest assured that your limo will be there waiting on you to escort you and your friends.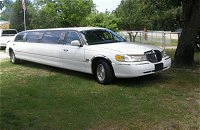 Sporting events, weddings, and bachelorette parties can all be taken to the next level with the addition of an amazing ride. The staff at Diamond Limousine Service are polite and adhere to the most stringent of professional standards. When you choose Diamond Limousine Service, you are choosing class.
For a more intimate, understated experience, Diamond Limousine Service offers a luxury sedan for special occasions or airport pickups. Having a chauffeur takes the evening "up a notch," while eliminating the fuss of having to locate parking and the potential of a long walk to and from your evening.
If you're looking to impress, or to sit back and relax, there is no better way than to hire a limousine. And for people near Fayetteville, North Carolina, there is no better option than Diamond Limousine Service to help you along on your journey.