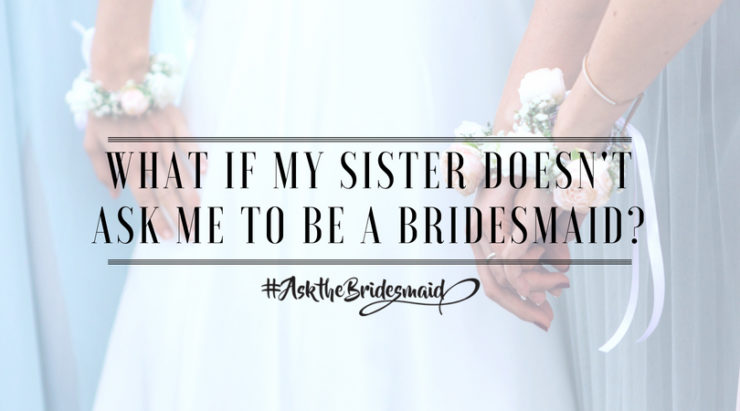 Dear #AskTheBridesmaid,
My sister is getting married this winter to the man of her dreams! I'm super happy for her to get married, but she hasn't asked me to be a bridesmaid or even the maid of honor. I know for a fact that she has asked most of her friends to a be a bridesmaid.
I just don't know how to ask her if she's going to make me a bridesmaid because I really want to be a part of her big day, and I will be extremely upset if she doesn't make me one. In my opinion, it's just not right not to have your sister as a part of your big day.
Please tell me what to do.
Katie
---
Dear Katie,
I'm so sorry that you have to deal with this. I have a sister too, and we made a pact a long time ago that we were going to be each other's MOH. We joke all the time about how lucky we are to have a built-in MOH, and we don't have to worry about choosing a MOH.

Granted, if my sister and I were not to choose each other to be our MOH, it probably wouldn't be pretty. That being said, you will have to approach this level-headed.
What I suggest you do is have a girls' night out with your sister. Get your nails done, have some dinner, go shopping, whatever it is both of you love doing together, and if it's the movies, skip it. You need to do something that will allow you two to talk to each other.

Once you're at a place where you can simply talk, let her know how you feel. Tell her how much this means to you and how much you want to support her on her big day. Once you talk it out, you will be able to see each other's side. Her thought process could be that she would much rather you and the rest of the family enjoy watching the wedding rather than stress about bridesmaid duties. Whatever the case, listen to what she has to say and hopefully you can find a compromise.
I hope it all works out for you! Having a sister is such special relationship.

Aynsley
Bridesmaid, #AskTheBridesmaid Team
---
Planning a Bachelorette Party?