You don't have to skim the internet long to figure out what is on trend for 2014 summer bridal season.  There are many trends out there that you'll absolutely fall in love with and want to include in your wedding. So, what are those? Wedding and Party Network has a few trends that you'll love!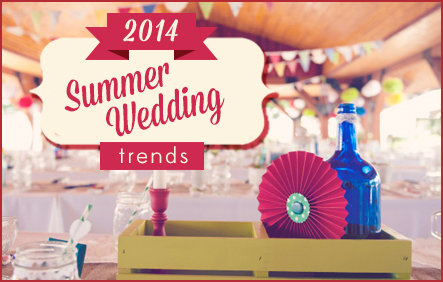 Vintage: There is something so romantic about adding old-world charm to your wedding day. It can take on a very personal touch by adding family heirlooms into the mix. If you have a guestbook table, grace it with old family wedding photos in classic frames. "Something borrowed" is easy when you are sensitive to the romantic moments that have occurred in your family's past. Romance is timeless, and those delicate touches will be your favorite parts of the day. Also, floral crowns, lace, rose tinted decor–it's all very feminine and dainty for this summer's nuptials. And it isn't just all about the bride–it is becoming increasingly popular to spend almost as much time styling the groom also. Brown suits and suspenders are making a come back. Being a big fan of all things vintage, I'm loving it all.
Sparkle: For the bride who wants romance, but also a dash of fun into her day, glitter is the way to go. Add it to invitations or jewelry for subtlety, or go big by incorporating it into your gown or the bridesmaid dresses. Very feminine wedding gowns with gold sparkle for the bridesmaids brings both aspects together. Flashy shoes of any shade showcase a fun and flirty personality, and putting glitz on your cake can bring that personality right into your reception.
A fan of the outdoors? If you or your groom are outdoor people, this is the perfect season to tap into that and use it for your wedding celebration. You can re-purpose branches and pretty flowers into an archway to get married under or to use as a backdrop. Or just let scenery do the talking and have your ceremony at an inspiring outdoor location. This summer's trend of using soft neutrals to make big statements works well outside.
Whether you're going for a theme or really desire to tap into your past, this spring/summer you'll find plenty to work with. The touches are delicate and timeless and easy to throw your own expression into. Creativity is key this bridal season and it starts with your own personal story. What better way to spend your day than putting your story into a celebration!