Luscious Fruit & Vegetable Display
Share
The artistry of this
local Alabama caterers
really stands out in this fruit table display. The little details of the flowers, greens, and carvings just make this fruit assortment look remarkable.
Submitted by :
CATERING CREATIONS BY CruLaRo
in Athens, Alabama
CATERING CREATIONS BY CruLaRo
300 East Hobbs Street Athens, AL 35611
Specialties Include:
Chocolate Fountains
Event Caterer
Banquet Catering
Buffet Catering
Party Catering Services
Wedding Catering Services
Gourmet Cakes
Corporate Event Catering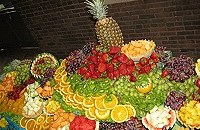 Wedding & Party Network Photo Gallery
Life is more rewarding when you share. Submit your party or wedding pictures and share the fun and happiness of your event.