Bicycle Arrangement
Share
These
flower arrangements
have been place in the baskets of this decorative bicycle. Sunflowers, orange gerbera daisies, yellow roses, and purple carnations make this flower arrangement come alive with color. This fun bicycle arrangement was created for a party and would make a great accent piece at any party or reception.
Submitted by :
LADY BUG
in Puyallup, Washington
LADY BUG
6017 85th Street East
Puyallup, WA 98371
Specialties Include:
Centerpiece Candelabra
Wedding Table Centerpieces
Event Coordinator
Plant Rental
Latex Balloons
Wedding Event Planners
Prom Flowers
Centerpieces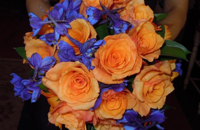 Wedding & Party Network Photo Gallery
Life is more rewarding when you share. Submit your party or wedding pictures and share the fun and happiness of your event.