Unique Party Food Presentation
Share
This
caterer
takes classic party food and presents it in a fun way.
Submitted by :
Naiman's Catering
in Louisville, Kentucky
Naiman's Catering
10004 Hartwick Village Dr
Louisville, KY 40241
Specialties Include:
Wedding Event Planners
Wedding And Event Planners
Sushi Catering
Wedding Party Rentals
Corporate Event Catering
Table Cloths
Party Planner
Wedding Caterer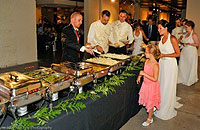 Wedding & Party Network Photo Gallery
Life is more rewarding when you share. Submit your party or wedding pictures and share the fun and happiness of your event.