Green Reception Centerpieces
Share
Submitted by :
THE GREEN HOUSE
in Wills Point, Texas
THE GREEN HOUSE
Family & Owned & Operated!!! We Will Customize Each Aspect Of Your Wedding To Tailor You"
Tollfree: (800) 765-1576
Local: (903) 873-3331
THE GREEN HOUSE
201 North 4th St
Wills Point, TX 75169
Fax: (903) 873-8333
Specialties Include:
Balloon Centerpieces
Wedding Chair Cover
Silk Flower Bouquets
Elegant Wedding Invitations
Party & Wedding Favors
Paper Napkins
Chair Sashes
Wedding Cake Flowers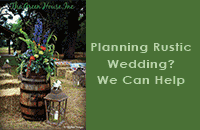 Wedding & Party Network Photo Gallery
Life is more rewarding when you share. Submit your party or wedding pictures and share the fun and happiness of your event.