Sparkling Cornucopia with Logo Ice Sculpture for Fall Theme Party or Garden Theme Party
Share
"Sparkling Cornucopia with Gardens of the Fox Cities Logo"
Ice Sculpture
.
Submitted by :
KRYSTAL KLEER ICE SCULPTURES, LLC
in Appleton, Wisconsin
KRYSTAL KLEER ICE SCULPTURES, LLC
2190 Carleton Avenue
Appleton, WI 54915
Specialties Include:
Ice Sculptures For Weddings
Wedding Ice Carvings
Party Ice Luge
Wedding Ice Sculptures
Business Logos
Ice Sculpture Fountain
Swan Ice Sculptures
Promotional Ideas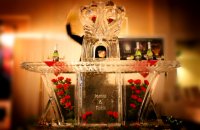 Wedding & Party Network Photo Gallery
Life is more rewarding when you share. Submit your party or wedding pictures and share the fun and happiness of your event.