Tollfree: (870) 607-0990
Local: (870) 781-3334
JESSICA'S BRIDAL & FORMAL
520 Main Street
Bay, AR 72411
Fax: (870) 781-3537
Specialties Include:
Prom Gowns
Homecoming Dresses
Wedding Gowns
Christening Gowns
Corset Wedding Dresses
Prom Shoes
Bridesmaid Shoes
Informal Wedding Dresses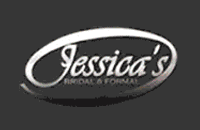 Are you Jessica's Bridal & Formal?
Log in
to upload photos to your profile!
Testimonials
Social Media
Promos
Spotlight

Beautiful dresses





I got my Beautiful dream wedding gown from Jessica's also my bridesmaids dresses and the tuxedos for all the guys! Everything was beautful, the guys ties and vests were a perfect compliment to the girls dresses. The super friendly staff made it a wonderful experience and were all very knowledegable. Jessica's is the place to go for the best selection, prices and service! Thanks so much Jessica for making us all look so good on our special day!!
Love Jessica's Bridal & Formal!
posted by
Wendy in Paragould, AR





After my cousin had gotten several pageant dresses at Jessica's, I got the PERFECT prom dress for my senior year there! I got so many great compliments on it and told everyone where I got the dress. Jessica has gorgeous dresses for most any formal occasion and their customer service is the best around. I've referred several people there and the majority have purchased their special gown at Jessica's and they have all been amazing! I can't wait to shop at Jessica's for my daughter's high school proms & her wedding (she's only 2 now) :)
Great Service





I came into Jessica's after searching countless stores for a very specific style of dress. The staff at Jessica's brought me 10 to 15 dresses in just that style and helped me find the perfect one. I now have my dream dress because the staff was so willing to help me. I truly had my "say YES to the dress" moment at Jessica's in Bay.
Formal Wear & Party Attire
: Bridesmaids Dresses, Christening Gowns, Evening Dresses, Evening Gowns, Mother Of The Bride Dresses, Prom Attire, Quinceanera Dresses, Tuxedos, Black Tie Dress, Childrens Bridesmaid Dresses, Cocktail Dresses, Communion Dresses, Children's Formal Wear, Debutante Dresses, Flower Girl Dresses, Formal Wear Accessories, Homecoming Dresses, Party Dresses, Plus Size Evening Gown, Plus Size Formal Wear, Prom Gowns, Wedding Formal Wear, Wedding Tuxedos
Wedding Gown & Accessories
: Wedding Gowns, Wedding Accessories, Wedding Jewelry, Bridal Tiaras, Bridal Veils, Wedding Gloves, Wedding Headpieces, Wedding Dresses, Bridal Shoes, Birdcage Veils, Bridal Accessories, Bridal Combs, Bridal Garter, Bridal Headpieces, Bridesmaid Shoes, Bridesmaid Tiaras, Crowns, Crystal Tiaras, Hair Accessories, Handmade Tiaras, Headpieces, Ivory Veils, Ivory Wedding Veils, Lace Veils, Pearl Tiaras, Tiara Combs, Tiaras, Tiaras And Crowns, Tiaras Veils, Veils, Veils Headpieces, Wedding Hair Pins, Wedding Hats, Wedding Headbands, Wedding Shoes, Wedding Tiaras, Wedding Veil, Ball Gown Wedding Dresses, Beach Wedding Dresses, Black Wedding Dresses, Casual Wedding Dresses, Corset Wedding Dresses, Custom Wedding Dresses, Elegant Wedding Dresses, Informal Wedding Dresses, Plus Size Wedding Dresses, Lace Wedding Dresses , Short Wedding Dresses, Simple Wedding Dresses, Strapless Wedding Dresses, Summer Wedding Dresses , Tea Length Wedding Dresses, Unique Wedding Dresses, Vintage Wedding Dresses, White Wedding Dresses, Bridal Gowns, Engagement Rings
Pageant - Prom Dresses
: Cocktail Prom Dresses, Corset Prom Dresses, Evening Dress, Evening Prom, Formal Prom Dresses, Homecoming Dresses, Long Prom Dress, Pageant Dresses, Pageant Gowns, Pageant Prom Dresses, Pageant Sashes, Pageant Shoes, Pageant Tiaras, Plus Size Prom Dresses, Plus Size Prom Gowns, Prom Ball Gown Dresses, Prom Dresses, Prom Gowns, Prom Shoes, Short Prom Dresses, Strapless Prom Dresses, Unique Prom Dresses, Vintage Prom Dress
Preservation
: Wedding Gown Preservation