When the temperature rises and the sun decides to come out for a nice long visit, I head for the outdoors. Winter is the time of year reserved for huddling in the house, snuggled up in a blanket or nursing a hot cocoa, but summer is my opportunity to get excited about the big three: backyards, buddies, and beer. You read that right, beer, brewski, barley soda, liquid bread, delicious bottle of suds. Whatever you call it, there's no beating a cold one on a hot day.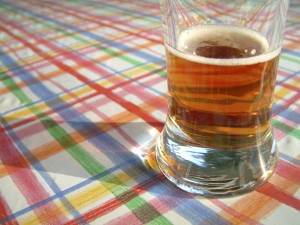 I've found that there are two different kinds of beer drinkers in this world. There are the Loyalists, who have one beer that they enjoy, and that's all they drink. Then you have the Experimenters. These guys enjoy a variety of brews and are always on the lookout for something different. For that second group, nothing is more enjoyable than a good old-fashioned beer-tasting party!
Beer-Tasting Party?
If you're unfamiliar, a beer-tasting party is an opportunity to get together with friends and try out everyone's favorite beer. The basic concept is to ask your friends to bring their favorite beer for a blind taste test. A scoring system is set up, and everyone will get to choose which beer they enjoyed the most. This could even have some of those Loyalists out there finding themselves with a new favorite brew. And for the more adventurous among us, you can ask your friends to bring the most obscure beer they know, rather than their favorite, and really get some wild options.
Putting Your Beer-Tasting Party Together
As the host, it will be your job to provide the location, scoring system of your choice, and some salty snacks. Your friends should be providing the beer. You can turn the event into a full-on cookout, and, if you want to continue the beer theme, you can create dishes that either contain or were marinated in beer. It's your party, so feel free to go wild.
To ensure you don't get multiples of the same beer, have each of your friends tell you what they're bringing ahead of time. It will also let you know how many beers are coming your way, and the supplies you'll need. For example, you want to have enough cups so that everyone will have a fresh one to try each beer. Preferably, the cups will be clear so that the color of the beer is visible. You can go as elaborate or simple as you want here, there are no bad ideas.
If using plastic cups, you can simply use a marker to number them, but if you choose glasses or mugs, you'll need to create some labels. Next you'll create numbers for each type of beer. This doesn't have to be complex, you can simply tape a pre-made number onto the six-pack. If you want to do something more fancy, knock yourself out, whatever your budget can support. Just remember, the numbering system on the bottles is for you, no one else should have access to the beer until you bring it out in the numbered cups.
You may consider purchasing some items to award as prizes for the most popular beer, least popular beer, or whatever other category strikes your fancy. The options are limitless, and so is the fun!
Let's Party!
When everyone arrives, collect the beer and sort it according to number. Then pour a mouthful of each beer into the properly numbered cup for each person. If you have a lot of beers, you might separate into categories such as lights, darks, etc to break things up. You can pick a winner for each category and then an overall winner at the end. The pace of consumption is up to you, but you want to make sure that everyone is still able to taste their drinks by the end.
This is also where snacks or the beer-themed food, if you prepared any, will come into play. Having a little something for everyone to eat between tastings will both cleanse their pallets and keep anyone from getting too tipsy to participate. Besides, what's a party without a little something to munch on?
Summer is the prime time for outdoor parties, and a beer-tasting party perfectly fits the bill. Imagine late afternoon shafts of sunlight falling around a big oak tree in the backyard, friends gathered in the shade, talking and laughing as they take a pull of some unknown brew. Enjoying quality time with your friends is always a good idea, and Wedding and Party Network will be here all summer to help you find new and exciting ways and excuses to do it!