Yesterday, I received a lovely email from Thu Vu owner of My Little Work Shop.  She and Brynn were having a conversation on Facebook about Wedding and Party Network and how we discuss wedding traditions among other things on the Celebration Advisor.  The conversation turned to multi-cultural weddings of which Thu Vu knows quite a bit about, since she is planning one herself.  Here is what she shared with us about Vietnamese/Chinese Wedding Traditions.
I am here to talk about the Vietnamese and Chinese wedding tradition. I am pretty sure that in America and in Canada the wedding would have a ceremony and reception. Vietnamese/Chinese tradition is different from the American's and Canadian's ceremony, which takes place at the church or somewhere else but with a priest, friends and families when you exchange your vows.

In the Vietnamese/Chinese tradition is that we have the groom's side of the family members and friends to carry lacquered, round boxes; betrothal presents to the bride's house. Only the males on his side would stand behind/beside one another (depends on what you're carrying)to carry the presents to the bride's house. You have to be unmarried and the guys that the groom may pick could be his own brothers, ushers, best man etc…

These presents are to be in your choice of betel leaves, areca nuts, wines, jewelries, fruits, cake tea, tea set, whole pig etc…you are to carry about 10-12 of these presents to her house. You may have double of the same items if you wish. The gifts are to be covered by red cloths.

The bride's side of the family members and friends are suppose to be waiting by the door. Their jobs are to collect the presents. The groom then would ask for the bride's hand in marriage.

The groom then are to place the jewelries on her. Such as placing the earrings in her ear and the ring on her finger. The parents/gram parents are to be seated on chairs, you are to take the tea while you are in front of them on your knees. You basically bow and give them tea to have a sip.

This tea giving is a very respectful thing to do when joining two families in one. I thank you for taking the time to read this. I will soon put some pictures up of my engagement. I am doing the presents giving and not the tea ceremony. The tea ceremony is used at the wedding. I attached some pictures for you, so enjoy!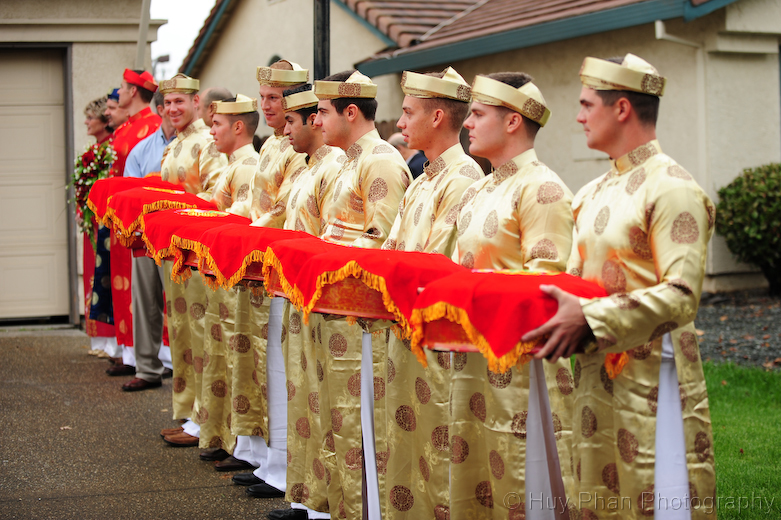 Grooms Party Presenting Gifts
Vietnamese/Chinese Wedding Tradition Gifts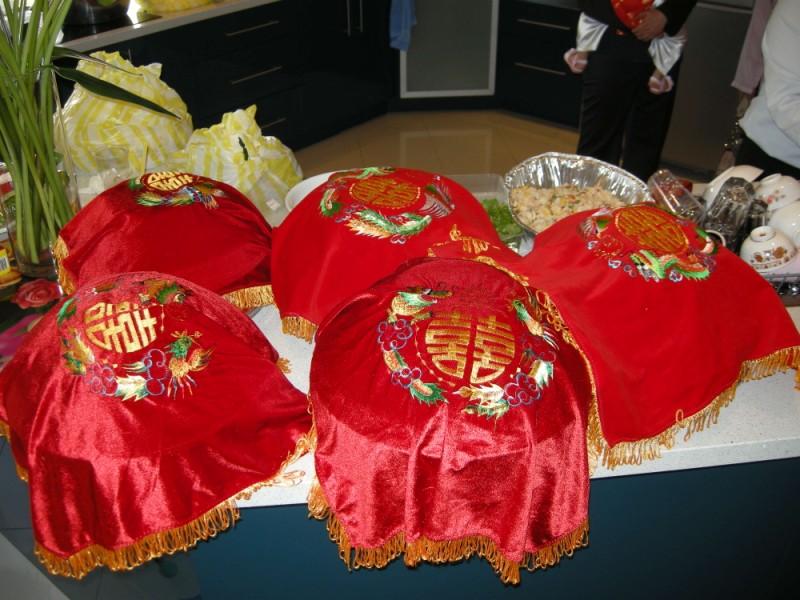 Red Wrapped Gifts
What a beautiful tradition, both in color and in sentiment.  Thank you for sharing such a wonderful wedding tradition with us. The photos are amazing.