Volume 5 Issue 1
In This Issue
– He Liked It, So He Put a Ring on It
– Oops…Places Not to Wear Your Engagement Ring
– 2014 Summer Wedding Trends

---
---





He Liked It So He Put a Ring On It
Every couple is different and so is every diamond. Girls have been dreaming about their wedding since they were little girls. Read More »

Oops…Places Not to Wear Your Engagement Ring
Let's all take a moment to look at the beauty on our left ring finger. That sparkling perfection is a symbol of commitment for a lifetime. Read More »

2014 Summer Wedding Trends
You don't have to skim the internet long to figure out what is on trend for 2014 summer bridal season. Read More »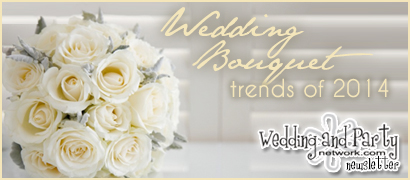 2014 Wedding Bouquet Trends
There are so many options when it comes to planning your wedding bouquet that it can all seem a little overwhelming. Here are a few ideas on trend for 2014 for making sure you fall in love with your bouquet.
Shabby Chic –This is for the ultimate romantics. Very delicate, feminine flowers like calla lilies are charming and will make you feel like the queen of the day. 
Sentimental – Another decision you'll be happy with is the decision to pack your big day with objects and memories close to your heart. With your bouquet, you have the ability to add things into it that mean a lot to you and will comfort you as you walk down the aisle. 
Variety – Rather than getting fixated on one type of flower, incorporating a variety of ones displays your personality and doesn't limit you to the one perfect choice of flower.
When finding the right wedding bouquet, make sure it suits YOU. That's the most important thing to ever remember.
We want to hear about your weddings and parties! Share them with us!

Realize the Dream with Jillian's
The question has been asked, and the answer has been joyfully and tearfully given. All of the preliminaries are out-of-the-way, and the moment to fulfill that greatest of childhood dreams has come.Read more about Jillian's
Being Inspired By You – Sue Bridgeman Florist
Your wedding is your chance to express the unique personality of you and your partner – not just who you are but who you hope to be together. Read More About Sue Bridgeman Florist
Make It Beautiful with Flowered Events
Flowers are the building blocks for any wedding. They are used to make the bride's bouquet, the groom's boutonniere and more of the same for the bridesmaids and groomsmen. Read More about Flowered Events
Barefoot to Elegant Wedding Officiants of South Florida
Are you planning a wedding in South Florida? Do you long to stand barefoot on the beach, coarse sand between your toes, and your feet washed by gently crashing waves? Read More about Barefoot to Elegant Wedding Officiants of South Florida

| | | |
| --- | --- | --- |
| The Farm, Candler, NC | SweetWater Bamboo Arbors, Wilmington, NC | Twinbrook Florist |
| Chanel Cotton Stationery, Liberty Township, OH | Phillip's Flowers & Gifts, La Grange, IL | Weathered Wisdom Barn, LLC, Preston, MO |



For more vendors in your area, visit Wedding And Party Network for all of your wedding and party planning needs!