Along with a new year comes new trends. Trends change, people's style changes and we like to stay on top of it to have an up-to-date wedding. Brides love incorporating something unique and doing something that no ones ever seen before. So, why  not do this through colors? Your wedding colors set the tone of your event. Incorporating them in your wedding ceremony, wedding bouquet, bridesmaid dresses and decorations, your wedding colors are everywhere. So, Wedding And Party Network is here to give you our top 2011 wedding colors of the year broken down into the seasons.
Spring Wedding Colors
Of course, lets not forget about Pantone's color of year which is honeysuckle. A gorgeous shade of pink is sure to add a touch of elegance to any wedding. This color is perfect for the girly brides out there, that love everything pink and lace. Gorgeous color combination when paired when neutrals like a cream or chocolate-brown. However, if you want things a little brighter, pair it with a gorgeous orange or blue to play it up.

Lavender is a huge color trend for the spring season. Purple has popped up more and more throughout weddings. It can show off the bride's softer side and is great for people who enjoy pastels, while on the other hand, play it  up with more bold colors. Pair it with soft creams or nudes, alongside black and white to add a beautiful pop of color or silver or gray for a gorgeous pairing. Purple looks great paired with many colors and are suitable for all types of weddings.
Perfectly pink peony, such a lovely wedding color. Think true elegance or gorgeous rustic wedding with this color. Can be paired with white, creams or silver or it even goes well with a pop of color. This color would be great for bridesmaid dresses and matching pocket squares and would look great throughout wedding flowers. A nice pastel, spring wedding color will make for a gorgeous wedding with whatever type of them you are going for.
Oh spring, the beginning of fresh new things. All things nature are back in full force. So, go with a beautiful green color to represent that in your wedding. A nature inspired wedding would be the perfect time to use this wedding color. This beautiful green would pair ideally with pink for that preppy style wedding, as well. A color that brings the life of nature to your wedding or a bit of preppiness, you decide which theme suits you best.
Summer Wedding Colors
A lovely bright and summer color that would look great in any wedding is coral. A fun bright color that would absolutely amazing in any wedding. Coral is a huge trend now, in everything. You can either tone it down or play it up with more bright colors. A great wedding color that's perfect for the summer heat.

Beautiful blues will always be major wedding colors. Who doesn't love blue? Exactly. Gorgeous navy is such a lovely color. Pair it with white, pink or even green to create a gorgeous pairing. Navy is a classic color, especially paired with white. There are so many lovely accents that you'll be able to do with this color, your wedding will look gorgeous.
Doesn't this color just scream summer? Beeswax is a popular color trend that would be great for a summer wedding. It's bright, yellow and sunny; just like summertime. Pair it with the above colors to create a fantastic wedding color combination. You can plan up the bold and bright wedding or even incorporate it into a vintage, chic wedding.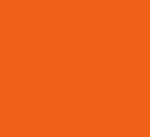 A bright, colorful pop of color is achieved by a bright orange. Orange is a great color for a fun wedding. It brings out the playfulness of your wedding. Pair it along a green, pink or yellow to create a rainbow color palette. Summer is all about those bright colors, so represent that through your wedding.
Fall & Winter Wedding Colors
Gray is  a huge trend this year. It's absolutely amazing, especially this slate gray. This color will absolutely add a touch of elegance to your wedding. Paired with a lovely lavender or white will make for a wonderful pairing. A color that would look great on every bridesmaid with a wonderful color accent from their wedding bouquets. This color is a must!
A beautiful deep, chocolate-brown would be great for a Fall wedding. Pair it along a burnt orange or deep yellow to make the perfect pairing of Fall. The leaves are turning and everything in nature as well, so your wedding will fit right in with this color. It would make a wonderful main color or provide a great accent to any pop of color.

This gorgeous deep red would is excellent for fall or winter, even a Christmas wedding. A gorgeous color that would make wonderful wedding bouquets and great details throughout your wedding. Pair it along the deep chocolate or even black to make a great color combination.

Antique white is such a lovely color. Again, it would work well with a fall or winter wedding if paired with the right colors. Pair it along a deep brown to make a great combination for fall or leave it by itself for a lovely winter white wedding. Will look beautiful for the seasons.
When planning your wedding, make sure to keep the colors of the season in mind and what's in trend. Your wedding will be truly unique and be on point!