Volume 5 Issue 3

In This Issue
– What to Wear to Your Engagement Party or Candlelight
– Your Last Gift as a Miss
– What's Trending for Summer Weddings 2014?
– Fall 2012 Wedding Trends
---
---





What to Wear to Your Engagement Party or Candlelight
Outfit planning is the worst thing you can ever do to yourself. Read More »

Your Last Gift as a Miss
Weddings are full of tradition, and one of my favorite traditions is the gift from the bride to the groom. Read More »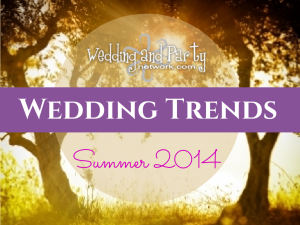 What's Trending for Summer Weddings 2014?
So the love of your life popped the question recently. And maybe there is still snow on the ground and you're glued to your cup of coffee for warmth but that doesn't stop you from dreaming of your amazing summer wedding. Read More »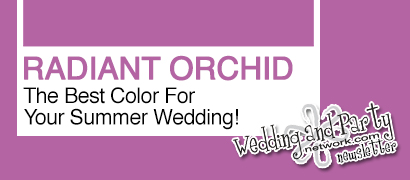 Radiant Orchid – Best Color for Your Summer Wedding

Trying to narrow down colors for your upcoming summer wedding? Feel like you have seen everything and want something new and fashionable without being impossible to match? Consider Radiant Orchid! Here's why:
Pantone has been an issuer of professional color standards for the design industry for over 50 years. Each year they use their expert color-sampling to examine the world of design and fashion and make a key prediction of the hottest color trends. The 2014 color of the year has been announced as Radiant Orchid.
This purple variant is in-between the calm stability of blue and the passionate energy of red. So, how do you incorporate this into your wedding?
Wedding Flowers – Lavender, orchids, lilacs, hydrangeas and stock beautifully exhibit this color and provide delicate and lush options for your ceremony, reception and bridal party flowers.
Goes with Any Style – Whether you long for classic looks or modern flair, poetic naturals or eclectic pairings, Radiant Orchid can be incorporated into any style and look great.
We love all the imaginative ways you can blend this color into your wedding palette to invite warm summery feelings of joy and love.
We want to hear about your weddings and parties! Share them with us!

RA Catering: Big or Small,  They Do It All
Whether planning for a wedding, anniversary party, corporate gala or any other event, you want to make a good impression. Read more about RA Catering
Delivering Your Dream Wedding – All Island Flowers
When planning your wedding, you work really hard to think of everything. You've pictured how perfect the day could be and then the reality of making it happen sets in. Read More about All Island Flowers
Great Memories with Action Photos Photo Booth Rental
So you are working hard to plan the very best event whether it is a special birthday party, retirement celebration or your own wedding day. Read More about Action Photos Photo Booth Rental
Make It Delicious with Southern Inn Catering
Food is an important aspect of any wedding, party, or corporate event. The decorations and ceremonies can be fantastic, but if the food isn't up to snuff, your guests will be disappointed. Read More about Southern Inn Catering

| | | |
| --- | --- | --- |
| Orchid Wedding Bouquet | Wedding and Event Planners | South Street Studios, Freehold, NJ |
| SweetWater Bamboo Arbors, Wilmington, NC | Flowered Events | Ultrapom Event Rental, Kansas City, MO |



For more vendors in your area, visit Wedding And Party Network for all of your wedding and party planning needs!