Top 5 Fall Party Themes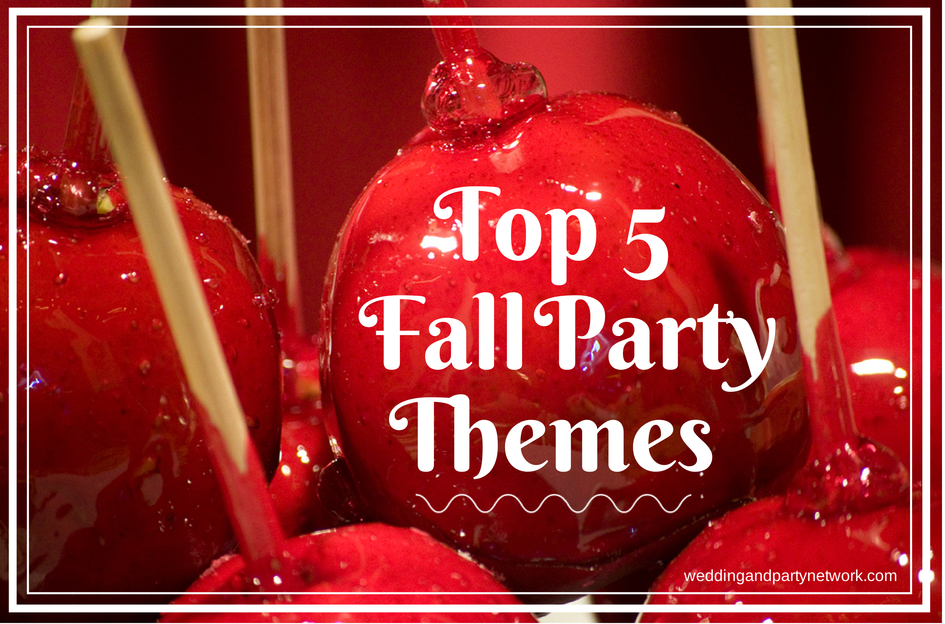 Summer is quickly coming to a close, but that doesn't mean the parties have to stop. Start planning for your next festivities with these top five fall party themes to welcome the new season.
Caramel Apple Party – Have your guests make these sweet treats with a candy apple buffet. You can make it fun and have them bob for their apple.
Homemade Pie Party- Fall's version of a cookie exchange, have friends bring a small homemade pie and hold a contest for the best tasting. Small party? Get the friends together and bake one as a team.
Smores Bonfire Party- Like you need a reason to throw a bonfire? Get everyone around the fire with marshmallows, graham crackers, and chocolate of all types.
Pumpkin Carving Party- Hold a mini pumpkin patch in your backyard. Play ring toss to choose your pumpkin and hold a carving competition.
Day of the Dead Party- This hispanic tradition can be celebrated by all. Make skull head cookies, have a face-painting booth, and tell the story of the Day of the Dead.
All of these fall party themes can be family friendly or have an adults only twist. Choose any one of these themes for your next celebration and have a great harvest season!
Hosting a Gender Reveal Party


Hosting a gender reveal party? Need ideas? We've got them!

Read More


Cure End of Summer Blues with a Back to School Party


Back to school is upon us and it's a perfect time to host a back to school party!

Batter Up! Baseball Themed 1st Birthday Party


A baseball themed first birthday party is an ideal theme, especially for summer. So, Wedding and Party Network has a few tips on throwing one!

Read More

Tailgating 101


With summer winding down, the countdown to the first kickoff of the season has begun! Therefore, we have your tailgating guide for this upcoming season!

Read More

Unforgettable Inc.: Making Your Big Day Unforgettable

Some brides want to be involved with every part of planning their wedding, while others would rather someone else take over. Read More about Unforgettable Inc.

Amazing Custom Invitations with The Paper Boutique

It's finally happened. He asked the question, she said yes and the date is finally set. Now, you get to pick out invitations! Read More about The Paper Boutique
Cruise in Style with Nashville Car Service

There are so many things to consider when planning your wedding. With everything from the food to the venue, it's easy to get lost in the minute details, but don't forget to book the ride to your happily ever after! Read More about Nashville Car Service