Need an idea for a Spring baby shower? A shower theme that can be geared towards a beautiful baby boy or a little princess? Why not go with an adorable bird themed shower? It can be called, "Hatching A Baby". This adorable themed baby shower would be perfect for either gender that the guests will love! With so many cute ideas for this theme, the new mother-to-be will be ecstatic!
Flying Invitations
Well, not really flying, but they will feature adorable birds on the invitations letting the guests know the theme of the shower. The party invitation is simple and classic featuring a fun bird's nest or adorable little bird.
It should also feature an adorable phrase, such as, "Anna is hatching a baby". The design of the invitation should simple, yet cute with all the little details.
Feathery Decorations
Colors should be pastels. Maybe a pastel pink, blues or yellows. When deciding on what party decorations to use, you should think of feathers! You can do so many things with feathers, all so cute and fun!
First off, one of the main party decorations that is featured at a baby shower is the diaper cake. Take that diaper cake to the next level by placing feathers on top of it, just like a cake topper. You can also place adorable little bird's nests around the cake with birds or maybe a few branches to truly set the theme.
Next, place bird cages and houses out as centerpieces. Place nests, wood birds and feathers inside as decor. Or, use a cage as a card holder for the mother-to-be. It's an extremely cute way to keep the cards in a safe place. Fill vases with feathers or eggs for a fun centerpiece and party accents.
A great idea that can serve as a guest book and centerpiece is placing a some branches that represent a tree and hanging tags from it. Guests can write their best wishes and then hang it on the tree.
Are you having a smaller get together, maybe a brunch and will need place settings? Place out adorable eggs with the guest's names on them as a place setting. If this is a spring baby shower, it will be great for Easter just around the corner. You'll be able to find party decorations for Easter and can incorporate them into this shower.
Eat Like A Bird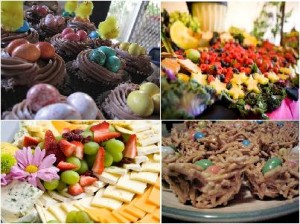 Of course, there should be party food at the baby shower. The baby needs it's nutrients. Of course, when you think of this shower, you think of spring. Which, when you think of spring, you think of light and refreshing food.
Therefore, that's what you should serve. Nothing heavy, just something refreshing to the palette.
Refreshing salads, fruits and vegetables should be on the menu with citrus vinaigrette. Light, refreshing appetizers, finger foods and tea sandwiches would be ideal for this event.
Along with refreshing appetizers, you should also think of desserts. Create a fun cake with feathers and nests or cupcakes with birds and toasted coconut that represents the nest. Set out a candy buffet.
Since Easter is around the corner, Easter candy is already being set out. You can find Peeps, candied eggs and candy grass that you'll be able to place out on your candy bar. Such a fun and cute idea. Remember, just stick with the theme. Think birds, eggs, branches, grass and pastels and you'll have one "tweet" baby shower.
Send your guests home with a "Thanks for feathering our nest" cookie as a party favor and your baby shower look will be complete.
This post is brought to you by Miami Party Decoration Providers.
Not in Miami, FL? No worries, use Wedding and Party Network's handy party planning directory to help you find party decorations near you!
Bird cage, bird decorations, bird cupcakes & bird's nest photos provided by tjstaab, shabbyscraps, wiccked, amanky via flickr.