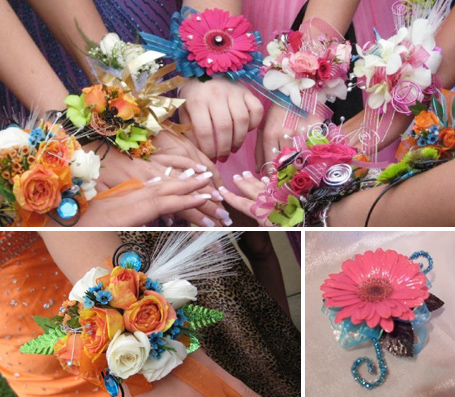 Ever heard of a corsage bar? It's pretty new, but totally fun! A corsage bar is a buffet-style spread of frills, decorations and doodads that allow to you pick-and-choose the coolest features for your personalized corsage!
Picture this: Dozens of adorable bowls filled with all the cutest beads, trinkets, jewels, chains, pearls, all in a multitude of colors. Beside those lay all sorts of ribbons and wires in an array of colors and textures. You will be able to pick and choose what creative things you want for your corsage as well as the perfect flowers you want to showcase your complete prom look.
This prom season is all about COLOR! The patterns are bright, the solids are bright — bright, bright, bright! With all this flashy flare, it's no wonder fashion forward girls are choosing to wear something more contemporary than your average rose-and-babies-breath corsage.
This is where the fun comes in: corsage bars are a great way to spice up your super prom experience! You can get exactly what you want and how you want it.
First, you'll need to ask your local florist if she is are hosting a corsage bar this prom season. Many will be hosting corsage bar parties or weekends leading up to prom. Schedule a time for you and all your girlfriends visit at once and help each other make amazing custom corsages to accentuate their prom dress.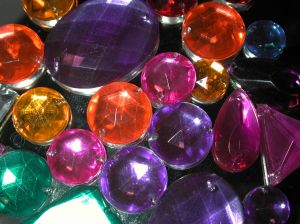 Before starting your design, think about your dress. What style is it? If it's a funky, neon color, get vibrant neon flowers to match. Leopard print? Choose blacks, browns and gold metal accents. You want your corsage to top off your look. Don't be afraid to be bold!
If you are using the metal wire swirls (like in the picture above) be sure to choose the metal that matches your prom jewelry. Silver goes with almost anything, but if everything else you're wearing is gold it's going to stick out like a sore thumb!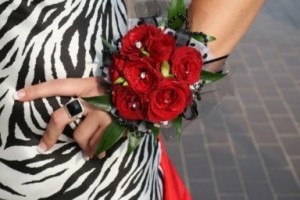 Because the trend this year is color, don't be afraid of it! If you have a solid-teal prom dress, use teal flowers and rhinestones in your corsage for a sleek, monochromatic look. Every color has a range of complementary colors, so ask your florist which goes best with your dress. For teal, it's orange, so accent your beautiful, teal dress with bright, orange roses and sparkly silver swirls.
If your dress is black or white, the color palette is endless! Do something striking like a black and red corsage for your black dress. (I know there are a lot of teens are looking for Twilight-inspired prom looks.) For your white dress, do a silver-inspired corsage with metallic silk roses and silver, glittery embellishments.
Things To Remember: Your florist always knows best, so take their expert advice when designing your corsage. Don't go overboard with your design. You don't want to look like you had a tiny craft store blow up on your wrist! Unless you're Lady Gaga, when florist says that's enough then, well, that's enough!
Want more than just a photo to remind you of prom 2010? Choose a corsage that will not only survive a night of dancing and fun, but will last as a keepsake for years to come. Silk flowers are becoming more and more realistic and most florists use them in corsages. (Especially for proms.)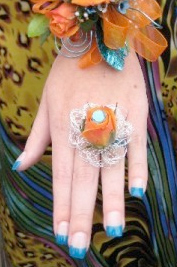 Don't Forget Your Date!
Use the corsage bar to coordinate your other prom essentials. Don't forget to create a custom boutonniere for your date that matches your corsage.
Creative, cutting-edge teens are also doing more than just corsages. You're florists should be prepared to make custom hair accessories like hair clips and barrettes. Matching flower rings are a big trend too! (Check out the photo to the right.) I have even seen some trendy teens putting a row of tiny flowers on across the strap of their shoes! Think outside of the box — it's your big day!
It's all up to you, and that is the best part about the corsage bar! If you want to really stand out, these are 100% guaranteed to be unique because they were designed by you.
UPDATE!
Florists, check out the article, "
Corsage Bar How-To!
" at our sister site, FSN's, Bloomin' Blog!
Here, you'll find basic tips and instructions about creating a corsage bar in your very own shop! Take a look and see how fun it is to let teens' creativity shine through!