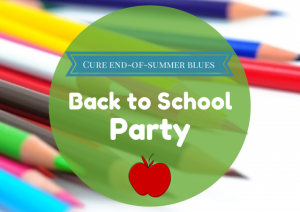 Are the kids hanging their heads in anticipation of their first day back at school? Cure the end-of-summer blues with a festive back to school party! After all, what better way to celebrate a new year at school than reuniting with friends and family? This last summer hurrah will lift your child's spirits as the countdown continues. Here are some creative ways to throw a party that will make the grade:
Offer School-Themed Snacks
To fuel the school spirit, offer snacks that your little ones typically munch on after-school! From the classic "ants on a log" to quirky apple "cars," these healthy snacks are sure to keep your students coming back for seconds. To add a fun touch, purchase some styrofoam lunch trays so kids can sample their snacks on trays similar to those the cafeteria uses!
Unsure how to recreate these snacks? Here's how you can do it!
Apple "Cars"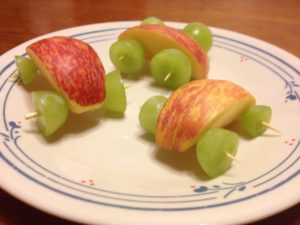 Ingredients: apples, firm grapes, toothpicks
Slice the apple into wedges and trim the core.
For each apple "car", slice 2 grapes in half widthwise.
Push the pick through the sliced side of one grape half, then through one end of the apple, then finish with the other grape half, sliced side out.
Repeat with the other end of the apple "car" and 2 more grape slices, and voila!
"Ants on a Log"
Ingredients: celery, peanut butter, raisins
Cut the celery stalks in half.
Spread peanut butter inside of the celery.
Arrange raisins on top, and presto!
Play School-Themed Party Games
School-themed entertainment is another great way to garner excitement for the coming school year. Your guests will appreciate these fun party games as a little friendly competition before school arrives.
School Supply Scavenger Hunt – Before your guests arrive, arrange various school supply items such as pencils, erasers, and composition books throughout the backyard and/or room. Come up with a few clever clues that describe the location of these supplies. When the star students arrive, surprise them with this creative scavenger hunt!
Lunchtime Blind Taste Test – Have the kids name that snack in a fun and entertaining blind taste test! Blindfold each participant and have them name the snack that they're sampling. Have them sample foods such as raisins, Oreos, an apple slice, and pretzels. The "student" with the most correct guesses by the end of the game wins a prize!
Use Back to School "Survival Kit" as Party Favors
What a better way to send your party attendees home than with a useful party favor! Create a back to school "survival kit" out of a pencil bag or a brown paper bag. Stuff said bag with appropriate necessities like pens, pencils, erasers, small rulers, and crayons found at a dollar store. With these handy yet inexpensive "survival kits," these star students are better prepared for their first day when that bell rings!
Throwing a back to school party is sure to brighten any child's spirits about going back to school. They'll be having so much fun at the party that it won't even matter that school's almost back in session!