Thanksgiving is traditionally a day filled with food, family, and football. We take the time to celebrate what we are thankful for most and appreciate what we have. The care and preparation that goes into Thanksgiving dinner is enormous. We want to help make your day a little easier by helping you plan an epic Thanksgiving menu!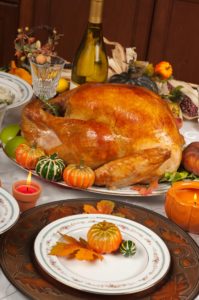 The Traditional
A traditional Thanksgiving consists of roasted turkey, stuffing, potatoes, green bean casserole, corn, sweet potatoes, rolls, and cranberry sauce. These dishes can be made as simple as store bought, or canned, to completely made from scratch. Mix and match to help save yourself some time.
Southern Style
A southern style Thanksgiving? Yes please! Deep fried turkey and giblet gravy gravy with cornbread dressing are the stars of this southern Thanksgiving. Sprinkle in some homemade mac n' cheese, and bacon-wrapped green bean bundles, and you are on the right track to a down home Thanksgiving dinner.
Vegan
Thanksgiving without turkey may seem like nonsense. But when you replace your turkey with stuffed butternut squash, brown sugar glazed carrots, scalloped corn, and roasted brussel sprouts, you are in for an exciting Thanksgiving meal that makes perfect sense.
Dessert
It wouldn't be Thanksgiving without yummy desserts that are hard to put down. Decadent pies, scrumptious cakes and delicious dessert dips are all welcome additions to Thanksgiving.
After you plan your menu, it's time to start cooking. If you have a large family and feel that trying to cook everything on your own is too overwhelming, there are a couple of things you can to to lessen your stress.
Ask each person to make a dish and bring it. This potluck-style meal will save you time, and it is a great way for everyone to pitch in for Thanksgiving dinner.
Consider having your Thanksgiving catered! Whether a partial catering to help you serve the perfect turkey, or a meal with all the trimmings, having you Thanksgiving catered isn't as crazy as it may seem.
Finding the right caterer for your Thanksgiving dinner, or a baker to help out with some of those desserts, is easy on Wedding and Party Network. Just search our directory for a member in your area!