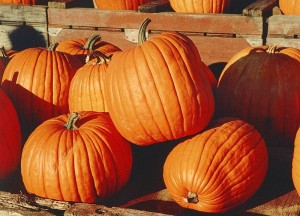 It seems like every year when Autumn rolls around, I always get in "party throwing mode". All I can think about is family and friends, good food, great weather and all of the vibrant colors of the earth that provide such a perfect setting. This year for my autumn get together, I wanted my theme and party decorations to be as natural as possible. I have really become a supporter of the "go green" movement and I wanted my autumn themed party to represent my position. So, I decided to do a pumpkin themed party.
There are several farmers markets and grocery stores around town that are selling the most unique pumpkins. Yellow, green, white, orange… and some even a rainbow of colors; which make for colorful, inexpensive decorations. For my table centerpiece I picked up a few of these matchless pumpkins and arranged them in the center of the dining room table. I turned a few of them on their side, leaving the larger ones standing upright in the middle, and intertwined some twigs and fall flowers throughout the arrangement, that I picked up at my local florist, to tie it all together. It looked fabulous. For the rest of the setting I picked up some inexpensive, solid-colored place mats that picked up the color of the pumpkins. I also used the pumpkins in other places throughout the house. I put a few up on the mantle, the book shelf, and on the coffee table as well with my year-round decorations to tie it all together.
You can prepare the party food yourself, but I always try to make things as easy as possible and hire a caterer. Whether you are hosting a dinner party or just a small get together for drinks and hors' deourves, a caterer can make your party planning easier. This year the caterer used worked within my theme. She is prepared a fruit tray with pumpkin dip as an appetizer and a pumpkin cheese cake for desert.
Just a little side note if you are hosting a large party or an outdoor event.
For large parties, not hosted inside the home or hosted in an outdoor setting, these decorations can be applied to tables at that venue. Chairs, tables, and even table cloths can be rented from a party supply rental vendor in your area. I often use a company like this for larger functions. They deliver and pick up the rented items too, so it is hassle free for the host.
Entertainment for autumn parties is really up to the host. I prefer mellow, low key, music played by a small band. This sets the mood for the fall ambiance of relaxation. My guests will be entertained by the beautiful sounds of an acoustic guitar player I have hired.
These are just a few of the autumn party ideas I use. Hope your party is as much fun as mine.