There are many holidays that are celebrated each and everyday. Now, they may not be as big of a deal as some, however, you can still celebrate them. Holidays, such as, National Cupcake Day or National Chocolate Day are both great holidays to celebrate. So, why not celebrate National Gumdrop Day, which is today! Wedding and Party Network has the details on hosting a gumdrop party that everyone will enjoy!
A Little Background On Gumdrops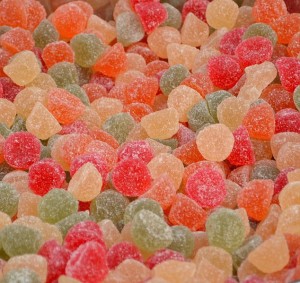 Sweet Gumdrops
Gumdrops are a tasty, chewy and flavorful candy. They normally are cone-shaped and come in brightly, fun colors and are coated in granulated sugar. They also come in a variety of flavors like grape, lemon, orange and cherry. The history surrounding this candy is uncertain, though some people believe that a man named Percy Trusdale invented this candy. This candy is truly enjoyed by everyone and is a sweet treat to be enjoyed.
How To Celebrate
To celebrate, you can go low-key or even have a little celebration at dinner. Starting off the day with the gumdrop theme is great. Strand gumdrops on string and hang them over the dining room table. Just a hint of gumdrops to start your money is great. Also, don't forget to incorporate the flower of the day, lavender, into this day. You can use this flower into your centerpiece or hide it in your child's lunch.
For breakfast, create gumdrop bread, which is basically you taking your favorite bread recipe and adding gumdrops to it. Next up, pack up the lunches and fill them with their normal, everyday lunch and add a sweet treat like gumdrop popcorn balls, squares or gumdrop pops to add a bit of surprise to their lunch. It's always nice to receive a sweet treat in your lunch when it's not expected. Don't forget to place the flower of the day into their lunch box or backpack.
To finish off the day, create a great dinner and a fun gumdrop inspired dessert. You can go with gumdrop cookies, gumdrop cakes or gumdrop party cakes. There are great desserts out there for National Gumdrop Day and the desserts are a sweet treat to end the day with.
When it comes to celebrating National Gumdrop Day, incorporate these sweet candies into everything. Fun decor and tasty treats will help you celebrate this fun holiday!
This post is brought to you by St Louis Caterers
Not in St Louis, MO? No worries, use Wedding and Party Network's handy party planning directory to help you find a caterer near you!