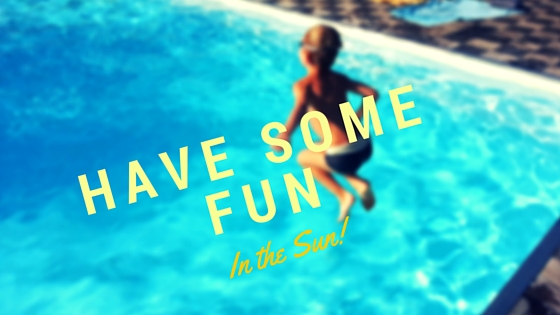 Keeping everyone cool in the middle of July can be a chore.  A pool party is a great way to cool down, but safety is also a must!  Here are a few tips to help keep your pool party safe and fun!
1. Life Jackets and Floaties
Not all children know how to swim, or can't swim very well.  This applies to adults as well.  Keep some extra inflatables around so everyone can have a good time.  You can find these in almost any shape and size, so if you have a theme, match them to it!
2. Supervision
Everyone wants to have fun at a pool party.  Make sure that happens by having plenty of supervision.  There should be at least two adults present at all times, possibly more depending on the amount of kids.  If you know a child can't swim, keep them in the shallow end.
3. For Adults
Nothing beats the heat like a refreshing drink, just don't have too many.  Be responsible, and use caution.
4. Sunscreen
Sunburns are not fun, and can cause more damage down the road.  Slather on the sunscreen (at least SPF 15).  Make sure to reapply after long breaks, or if someone towels off.
5. Hire a local lifeguard if needed.
If you are worried about having enough supervision, consider hiring a local lifeguard.  They are trained, and most probably wouldn't mind making a little extra money.  This can take some of the stress off of you and allow you to enjoy the party!
Pool parties are a great way to celebrate in the summer.  These kinds of party don't need an occasion, and everyone will have a blast!  Enjoy the fun, be safe, and stay cool!   
For help planning your next event or to find a venue, click the link below!