Engagement parties, wedding showers, baby showers, all of these parties have one thing in common: food. Whether it is just a cake, or a full three course dinner, food is so central to all of our celebrations. Most parties feature the food all set up together on the bar or dining room table, placed neatly next to the punch and a gorgeous centerpiece. Insert your hungry guests standing in line to fill up their plate and you've quickly got a crowded dining room. But we've got a better idea: Tasting Stations.
They're perfect for those summertime parties, especially on a cool, Saturday night. Here's your how to on setting up tasting stations.
A sample menu would look like this:
Pork tenderloin rolls and a scrumptious horseradish sauce
Sushi with simple California rolls
Peel 'em and eat 'em shrimp with cocktail sauce
Crowder pea succotash (http://www.myrecipes.com/recipe/crowder-pea-succotash)
Warm brownie & ice cream
Beer, wine & mini water bottles
Set Up
Start with getting a few extra tables to put around your garden or patio. Don't be afraid to have a station set up inside on the dining room table as well. You may have to do some rearranging, but that's usually always necessary when throwing these parties.
Any kind of tablecloth will do, and a little secret-they don't all have to be the same. As long as they aren't bright pink princesses mixed with your grandmother's hand sewn lace, you're good to go.
Space out your tables, and use the same serving pieces you normally would. Use the small plates, and as utensils, use toothpicks and plastic seafood forks. Do you see how easy the clean up is getting? Make sure and set up a small trash can or trash bag next to the table so that guest can clean up after themselves.
Upkeep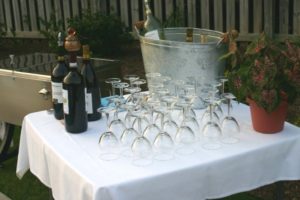 I'm sure you're thinking, what happens when we run out of food, I can't take all of this on. Every party I have ever thrown, there has always been a slew of hostesses. Most of those who volunteer to help know that they are financially invested in this party, as well as invested with their time. So, assign each hostess one station, and let them be responsible for getting that food or drink to the party, and then keeping that station stocked. It's as simple as taking a quick look every now and then to see if the station is empty and refilling when it is.
Clean Up
This can get as easy as you want it. Disposable table clothes, plates, utensils, beer and wine cups, and serving pieces can make clean up a breeze. When the party is over, you can just throw nearly everything away in your pop up disposable trash cans and be done.
Now we know some of you like to get fancy, and we love a fancy party too. We suggest only dirtying up the serving pieces, and let the rest be clear, hard plastic plates and silver plastic utensils.
There you have it. A new spin on a classic party that will wow your guests and help with crowd control. Our hope is that your guests will spend more time enjoying the food than standing in line for it!