A Halloween party is a great excuse for the inner-child in all of us that loves to dress up and act goofy or spooky to come out. It's way for us to escape reality for a few hours and pretend to be someone or something else. The typical Halloween party is decorated in black, orange and red, with blood splattered serving trays and black widow spiders hanging from above, and there is nothing wrong with that! However, this year we should take it up a notch and create an elegant upscale, but still fun and spooky Halloween extravaganza!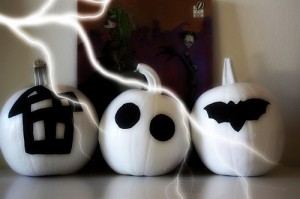 Think white, silver and a touch of bronze. Creating a fun and beautiful Halloween party is simple, especially if you have the creativity and patience to plan it out. Here are some party tips for White Halloween Decor.
Put Ghost Peeps on lollipop sticks and display on a cake-pop tray.
Display white jordan almonds, white dutch mints and white champagne bubble candies in white serving bowls.
White pumpkins spread around the room look dazzling paired with silver sparkling skulls.
White table clothes, sparkling white bat cut outs and spider webs are great for added party decor.
Bones are white! Decorate with plastic bones,  mummies, ghosts and white chocolate covered fruit.
White frosted cupcakes, white sparkling cookies, and sparkling white grape-juice are just right for your frightful night.
Don't forget white spiders, white serving trays, and silver touches through out the party.
Have fun and get creative – thinking  outside the box will pay off when you see the final outcome of this fabulously frightening Halloween Treat!
This post is brought to you by Miami Party Decoration Suppliers.
Not in Miami, FL? No worries, use Wedding and Party Network's handy party planning directory to help you find a party decoration supplier near you!
Special thanks to Sweet.Eventide for her fantastic photo via Flickr.