Back in the day, you were happy to get those letters that spelled "Happy Birthday" on your cake while your friends sang, and then you played outside. Not anymore. Parties are way more fun, and way more themed. Here are some really fun party ideas you're going to want to do.
Wild for Reptiles
This one is not for the faint of heart: host a reptile and amphibian party. It is wildly different and sure to please, for the kids, anyway. Hire an animal handler to bring in live snakes, gators, lizards, frogs, and more. Do face painting to make all of the kids look like their favorite animals. Make party bags that look like "live cargo" shipments, finish off cupcakes with swirls of green to look like slithering snakes, and eat off of camouflaged plates. The ease of this party is that it can be anywhere, including your backyard, and still be a big hit because the exotic part of this party is in the animals. Make signs that say "Hoppy Birthday" and get a group pic of kids holding the animals and you have a successful party. If you can find a good animal handler, the rest should be downhill from there.
Party with the Force
Young Jedi's will love this event that can include lightsabers created using pool noodles and duct tape, and no-sew Jedi robes made with fabric that crosses at the front and is tied with rope. Create a drink dispenser that looks like R2-D2 with permanent markers or colored duct tape, and make a Stormtrooper bowling set out of printables and an inexpensive bowling set. Don't forget to play pin the bun on the Leia, and then let the kids use water guns to free a frozen Han Solo figurine from a tub of ice. Er, I mean from a tub of "carbonite".
Aloha from Moana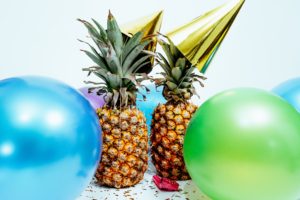 Disney's Moana is a great one to build a party around. Its tropical setting and fun vibe should make this party a hit. Pull in shells, sand, and leaves from tropical plants to use as decor. Use brightly colored straws and forks, drape your guests in leis, and recreate the Kakamora with paint and coconuts. Serve frosted flower cookies, and skewered grilled chicken and fresh pineapple. If you have an outdoor fire pit, light it up. Party games can include limbo, pin the flower on the oar, and Moana printable Bingo. Play the movie at the end of the party for extra fun.
Art from the Heart
Host a messy art party. Throw the kids in t-shirts and put them in front of a canvas with lots of washable paint. For the not-so-serious artist, kick it up a notch and use paint-filled squirt guns, shaving cream, and sponges. To make cleanup easier, host this as an outdoor party during warmer months. Use bed sheets if you prefer them over canvases, or butcher paper, or all three. When finished with the painting, hoist some string up between two trees to dry the masterpieces before going home.
Three things to remember for kids parties:
Kids won't notice if everything isn't perfect
(Almost) Everything is washable
Have fun!