Between you and all your friends, I bet one of you has a patio, garden, lawn, or at least a tree! If so, it's time for a GARDEN TEA PARTY! Now's a great time to have an outdoor party! The weather is finally warming up, the bugs are still dormant — it's just a great time to be outside!
First things first, The Setup.
A garden party can be simple and charming, or as elaborate and fancy as you choose.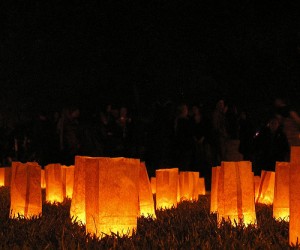 Start with lighting. My suggestions are to recycle your Christmas lights: wrap or hang them in your trees or bushes. If you are lacking in the tree department, line your patio with them, or even make patterns or designs in your lawn.
Another cheap lighting idea — tea candles in paper bags. It gives a wonderful glow for quite a while actually. It may seem kind of dangerous — a candle surrounded by paper? Well, the trick is to fill the bottom with sand or dirt and bury your tea candle as deep as you can without covering the top of it. Make sure if they DO catch fire there is nothing near them that can be damaged. Because the bottom is full of dirt, they are relatively easy to extinguish.. just kick it over.
Other lighting suggestions would be: Candles on chains, or otherwise scattered around your patio. You can put a bundle of tangled Christmas lights under your table (to be covered by your table cloth of course) to give a wonderful ambiance.
Now, furniture.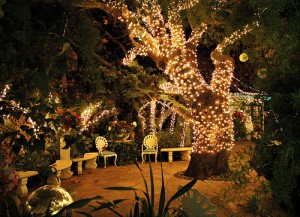 Again, between you and your friends, one of you has a card table, or other type of table to use. Don't worry what it looks like, cover it with a white sheet or other table cloth. We all know and love the look of shabby chic. Use the thrift or second-hand stores to find some old furniture like benches, chairs, stools, and other seating. Sometimes you can find some pieces in bad condition that are still usable for next to nothing, and if you buy a few of them, it can't hurt to ask for a discount! Even dollar stores might have some plastic furniture you could use. You can even get some retro-funky furniture to match… unmatch.
If you get your furniture a few days in advance, spray paint them your favorite colors or even colors to match your garden. Before going Jackson Pollock on your furniture, try to think of what look or mood you're going for. If it's a classic, Victorian garden tea party, go with pastels or just solid white. (White spray paint is cheapest!) If its more of a whimsical, artsy event use bright, bold colors. Don't spend too much time painting your furniture—remember it's going to be dark anyway!
Favorite part… Decor!
It's not a garden party without flowers! For budget parties, get with your local florist and find out what's in season or if they have any overstock flowers, which are usually a lower price or on special.  Order lots of these cut flowers for your decorations, plus an appropriate-sized centerpiece for your table. (TIP: It's a good idea to let your florist have creative freedom when it comes to making arrangements. Tell your florist what the arrangement is for and what your primary colors are, and let them have some fun in creating it. I've always gotten the COOLEST arrangements this way!)
Back to the thrift store… Buy every 25¢ ugly statue, vase, hanging thing, or whatever else tickles your pickle. (I promise you'd be surprised what you'll find. Don't forget to ask for a discount if you buy lots, it can't hurt!) You can either paint these, or leave them alone. Sometimes you can find some old doilies and other fabrics for cheap. Overlap these onto your table and chairs.
A really cool thing I've seen with garden parties are chandeliers. If you can find a cheap-o chandelier, hang it in the tree above your table. Wire your cut flowers to it for added beauty.
Lastly, TEA PARTY!
Food is the last major element of the Garden Party… It's a tea party, so you're going to need some tea. If you can, get a tea sampler with a variety of great teas. Make each in a separate, little tea pot and sit on your table.
Again with the thrift store… but find mismatched teacups and saucers, one for each of your guests. If you have a lot to choose from, pick a teacup that matches your friend's personality. (As always, the stranger the better!) Make sure to set the table before your guests arrive with just their
For food, keep it simple — finger foods, fruits, veggies and dip.
Last Little Extras
If you live in the country, or somewhere quiet, the sounds of nature may be enough, but if not you're going to need some music. Use a portable cd or record player to give your party some tunes to sip tea by. I know you all like your punk and emo music (jk), but for this party, the mood should be much more mellow. Other noise makers would work too, like wind-chimes and bells.
The last garden party I went to we all dressed up in prom dresses we found. (Not really tacky ones, just kind-of tacky ones 😉 This made the night so much fun!
I hope this post wasn't too overwhelming, there are a LOT of ideas in it, however you can pick and choose the ones you feel fit with your group of friends. If you like the idea and have other suggestions for this post, please let us know in the comments below!