Decorating gingerbread houses is a classic holiday activity. The great thing about it is it can be a party theme for kids OR adults because it allows you to get in touch with your creative side. Kids love that, and so do adults. Everyone also loves candy, so it's a win-win. So, get your favorite candies, some hot glue or icing, and roll up your sleeves for a gingerbread house decorating party.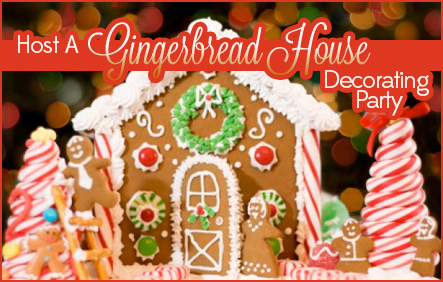 How do you setup a gingerbread decorating party? It's easy. Just gather all your supplies and create a decorating station for each person. Lay out the pieces for the gingerbread houses with the hot glue gun so everyone can put their house together. Then, down the center of your table place the candies for decorating the houses with so everyone can share. Need ideas for what candies to use? Here are some ideas for candies that work well for gingerbread houses:
Chewing gum (for shingles or wood siding)
M&Ms
Skittles
Candy corn
Lifesavers (stacked together to make posts)
Red hots
Smarties
Peppermints (for windows or the tops of trees) Or you could also use a sucker for trees
Of course, the possibilities are practically endless. Take your favorite candy, think about its' shape, and see what creative way you can use it for your house. Thinking outside the box is a great way to ensure your gingerbread house is unique.
Decorating Inspiration
Basic Gingerbread House: The simplest design to go by is using graham crackers to make a simple, one-story house. Stick them together with hot glue or icing to make the bottom, top, and sides of the house. Then diagonal them to make the rooftop. If you want, you can use candy or another snack food to layer on top of the roof to give it some texture. This makes a small house, but it's great for kids to be able to do and decorate. You can always keep it going and add a second, third, or fourth(!) story onto your house. You can also break some crackers in half and make a chimney.
Adding That Extra Something: For rooftops, use gumdrops, vanilla wafers, mini cookies, or mini frosted Shredded Wheat. For shutters, you can use mini candy bars or Andes mints. For fences, layer some pretzel sticks or candy canes. A neat idea for an ice skating pond is to use blue mints microwaved on parchment paper until they melt. For snow you can use confectioner's sugar or edible glitter. There are a ton of ideas out there, just get creative with it and make it your own.
Gingerbread houses are perfect for you and your kids to both get involved with together. It's also another great excuse to host a holiday party. So, hurry up, start planning and get your creative juices flowing!