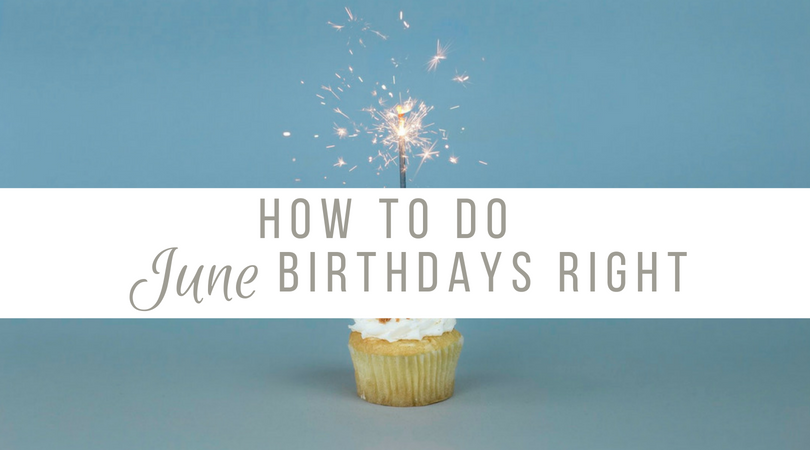 Another month has begun, which means you most likely have a BFF or family member who has a birthday that needs some celebrating! June is the month that everyone has been waiting for (aka June is the month summer begins), so it'll make a great time for a birthday party! Throwing a birthday bash doesn't have to be a hassle, especially with our help! Get your party favors ready, we're about to celebrate the June babies! 
The number one thing to remember is to know what kind of party to throw for your friend. Would they want a small get together with their besties, a fancy dinner, or a laidback party with tons of people? Hosting a party that everyone enjoys is important, but making sure the person you're throwing it for loves it is the top priority. It's their big day, so make it all about them!
If you're not sure about what kind of party to throw them, take a look at their zodiac sign. This might sound silly, but it's crazy how spot on your zodiac sign can be! June has the pleasure of being associated with the Gemini and Cancer zodiac signs. Do a little digging into their sign and throw them a B-day party according to their personality. 
Geminis are fun and energetic people- they never meet a stranger. Geminis are those friends that you can't go anywhere with without being introduced to someone new every 5 minutes. It's their charming, outgoing personalities that make us love them! While you're working on the guest list, make sure your pen has a lot of ink because their invite list will be a tad bit lengthy! They will pretty much want every friend they've ever made to be there! The location you choose will need to be spacious for all the people who will be attending. Geminis will want to float around and socialize with all of their friends. Hosting a backyard BBQ or even renting out a room in a restaurant would be so much fun for them! You can set up colorful centerpieces to match their fun personality and have cool party favors such as koozies, bday buttons, and balloons. To liven up the party, karaoke would be a fun option for your Gemini friend– let them sing their way into a new age!
Your Cancer friend is most likely sensitive and a family person. The Cancer sign is known to be a hard shell to crack. They're normally misunderstood, but once you crack their shell and earn their trust, you will see their true self. They can be nurturing and loving to the people closest to them. They appreciate their more genuine
friendships, so having a cozy dinner with their closest people will be best. Cancers are such loyal friends, so you want to make sure they will be able to give all of their friends an equal amount of attention. Keep the decorations simple– the main thing a Cancer will be worried about is their friends. If a Cancer is ringing in their birthday with their closest friends, they'll be more than pleased with their party.
No matter what kind of party you host for your BFF or family member, they will appreciate the gesture. Just take a minute to understand them and figure out what kind of party they would enjoy the most! Follow our tips and it'll be a piece of cake to throw a June birthday party!