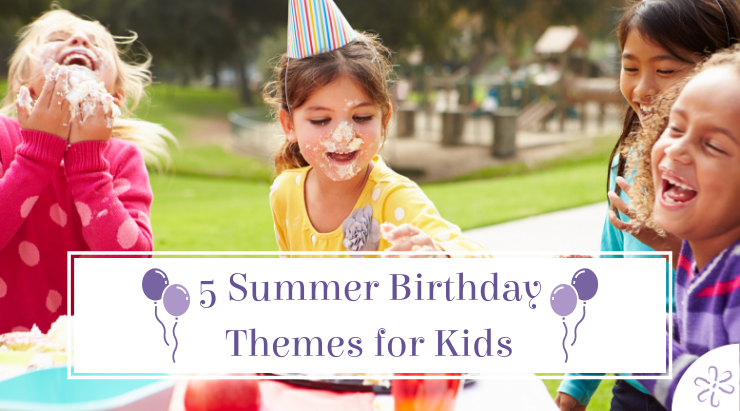 Do you have a little one with a birthday coming up? Then it's time to celebrate! Your kid will be as happy as a clam with any of these summer birthday party themes. Don't get tide down by spending all your free time party planning—let us do the hard work for you! Enjoy their special day with any of our fintastic party ideas.
---
Moana Island Bash
This is the perfect tropical theme for a summer party. Moana is one of the newest Disney movies, and kids love it! You'll easily be able to find the perfect party supplies. You can't go wrong with coconut cups, grass skirts, and lots of flowers. Serve the kids cupcakes, Hawaiian ham and cheese sliders, and fruit punch. It'll be a great day full of island fun!
Pirate Party
Grab all your little one's best mateys and keep them entertained with a pirate-themed playdate. Encourage the kids to come dressed in their best pirate costume and hand out little treasure chests filled with goodies as party favors. Get adventurous by creating a treasure map for everyone to explore and look for gold! You'll shore-ly have a good time.
"Drive-In" Movie
Every boy and girl will be so excited to show up for this movie party. Pick out the perfect feature film to play on a projector in your backyard. Then, create cars out of cardboard boxes for each of your little guests. They'll feel like they're really at a drive-in movie! Keep the popcorn and candy comin', sit back and enjoy the show.
Under The Sea
We can't wait for you to dip your toes into this under-the-sea party idea. Incorporate fish, seahorses, mermaids, and any other sea-creatures into your decorations. Create DIY jellyfish, and try your hand at making sea turtle cupcakes and starfish cake pops. Entertain all the little ones with a homemade fishing pond game. The kids will love it and you will too!
Surf's Up
This party is sure to make waves with your guests. It's time to get into beach mode! Grab beach-themed party supplies, beach balls, and kickboards for the kids. Perfect for a pool party; you can provide lots of water toys for everyone to enjoy. Burgers and hot dogs are great for pool parties and ideal for the kids. Dive on into this party idea—it'll be a blast!
---
Looking for a birthday cake?