St. Patrick's Day is quickly approaching and now is the time to plan the greenest St. Patrick's Day party of them all! What do you do that hasn't been done before? Wedding and Party Network has a party idea that is full of elegance, green, and full of luck!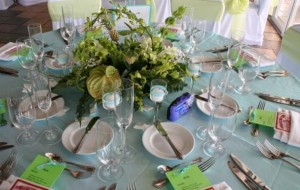 Why not host an elegant dinner party for St. Patrick's Day? It's something different, especially if you just host a themed party every year that is centered around four-leaf clovers and green. Here are a few tips that will definitely create an elegant setting for your friends and family members to enjoy the luck of the Irish on St. Patrick's Day.
Create a beautiful tablescape – Find a neutral table-cloth that pairs well with green. You can go with white, tan, or a nude color. Once you find that, it's on to finding the right table runner and table cloths. Emerald is a great color to go with it or mint is a very popular as well.
Next up is to talk with your florist to find the right centerpiece that will truly make a statement. It would be great to feature a cream arrangement to add a variation against a green table runner. However, it may also be unique to feature beautiful greenery as well down the table.
Don't forget about the candles, great dinnerware, servingware, glasses, place settings, and menus. Add fun little touches of St. Patrick's day to your place settings and menus.
For the "lucky" food – Of course, go with an Irish themed menu. What do you serve? Consider serving stout braised short ribs, cottage pie, Irish lamb stew, shepherd's pie, apple mash, cabbage, cream de menthe brownies, Irish soda bread, and corned beef hash. It's always great to add a bit of green into the food menu as well. Don't forget, if you don't have a clue on what to cook, visit your local caterer.
Mix this years St. Patrick's Day party up a bit by hosting an elegant dinner party. It's something everyone will enjoy!