Mardi Gras is celebrated all around the world on the day before Ash Wednesday. It's a way to indulge before the start of Lent. So this is a great holiday to celebrate since you can have all kinds of delicious food and fun games! It's celebrated on a large scale in New Orleans with parades and parties, but with a little research on the holiday, you can celebrate right in your own home!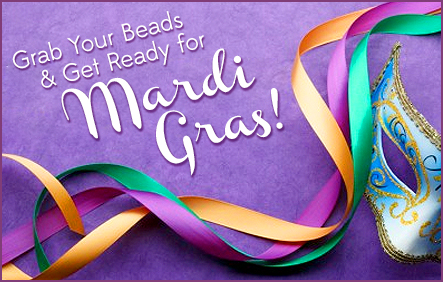 Decoration and Setting: Purple, green, and gold are the official colors of the holiday. Bright and colorful is the key. Beads draped around the room, tinsel, balloons, streamers, etc. You can go all out or not, as long as whatever you use is vibrant and within the color scheme! If you have kids and want to let them help out, have them string the beads around the furniture and decide where to place streamers (with supervision, of course.)
Mardi Gras Trivia: If you're like me, you may not know a whole lot about Mardi Gras without some Google searching. Playing a trivia game about the holiday will give everyone some insight into what Mardi Gras is actually about and how it came to be. It may be more or less a guessing game, but that's okay! It will be entertainment just testing everyone's guessing skills! You can get started with questions like: When was the first documented Mardi Gras parade in New Orleans? (Answer: 1837) What does Mardi Gras translate to in English? (Answer: Fat Tuesday) What are the official colors of Mardi Gras, and what do they stand for? (Answer: Purple for justice, green for faith, and gold for power).
Masks: You can't have a Mardi Gras party without masks. Masks of all kinds are a welcomed trend of Mardi Gras. To make it more interesting, you can make masks at your party. Or have a contest to see whose mask is most popular. If kids are involved, they can have a mask decorating station set up just for them.
Food: Probably the most important aspect of the night! You will want to serve real hearty food like chicken and sausage gumbo, red beans and rice, shrimp, etc. For dessert, try bread pudding, King Cake (a ring-shaped pastry), or Beignets. Just be sure to go with New Orleans inspired food and you'll be sure to complete the tone of your Mardi Gras festivities.
When planning your Mardi Gras party, be sure to draw inspiration from the heart and sole of Mardi Gras, New Orleans. Your party will truly be full of life, color and good times!