Summer always seems to fly by and before you know it, the kids are heading back to school. For some, this isn't a very exciting time. Host a Back to School Bash to give the kids one last hurrah before heading back to the school room.
Fun
Games are always a big hit at parties and this one will be no exception! Choose some games that are purely for fun, but also throw in some games that can be educational.
The memory matching game is a great game for younger kids. These are easy to find at most stores, or look online to make your own. For older kids, make giant anagrams! You can do this by painting letters on squares cut from cardboard, or wood (depending on how durable you want it). This will help them practice their reading and spelling, while still having a good time.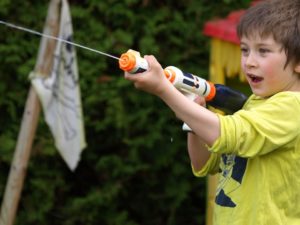 For pure fun, have a squirt gun race! Use water guns, string or fishing line, and plastic cups to make an easy set up. Check out step by step instructions here! Junk in the Trunk is another simple and fun game for kids. Place some ping-pong balls in an empty tissue box, and attach it to a belt. Have kids wear the belt so the box is behind them. The goal is to get all of the ping-pong balls out first!   You could also play games like Duck, Duck, Goose!, Simon Says, or do the Hokey Pokey!
Food and Decorations
For the food and decorations, go with a school theme! Apples, pencils, erasers…The sky's the limit! Make "book worms" from grapes, serve peanut butter and jelly sandwiches, pizza, and make a fun trail mix using alphabet cereal. Apples are a must for snacks also! If you choose to do a goodie bag for the kids, include things like pencils and crayons. You could also have a mini school supply drive. Have each child bring an extra of one supply that is on their list, and then donate them to the school for children in need.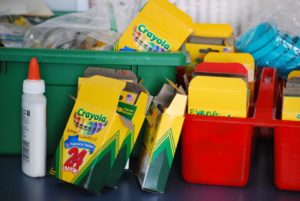 The end of summer doesn't have to mean the end of fun! Making the return to school an exciting time will help kids look forward to going back to school as much as they look forward to the last day of school!
For more party tips and themes, click below!