We hate to say it friends, but spooky season is almost over (we know, we're sad too). While we hate to see it go, it's not over just yet! Halloween is the perfect holiday for a party, and there are so many different kinds of parties you could throw to celebrate the end of everyone's fave season. If for some reason you haven't already planned a Halloween bash, we've got some ideas that are sure to be a scream! 
Classic Costume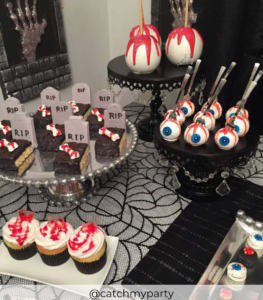 If you're looking for a party idea that requires little effort, the classic costume party is for you. You've probably already been invited to a costume party or two and the rules are the same for all of them— come, dress up as whatever you want, and party all night! Fairies, stormtroopers, monsters, and those weird costumes that nobody understands (you know the ones) are all welcome at this party! Decorations can be as elaborate or simple as you want. Go all out with the bats and ghouls, throw in a fog machine and strobe lights if you're feeling extra festive, or just turn on the Monster Mash and leave it at that! Food is optional and also requires whatever effort you feel like putting in. Whether it's plain chips and dip, eyeball jello shots, or bring your own booos, your guests are really just there to dance and have a ghoul time! 
Themed Thrillers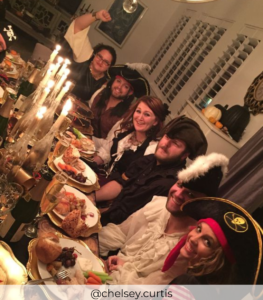 Give them pumpkin to talk about with a themed party! These are a step up from a traditional costume party, and typically require a little more planning and more elaborate decorations. Everyone invited knows the theme ahead of time so they can plan their costumes, and any refreshments or decorations to go with the theme you choose. The good news here is the theme can be whatever you want! Never got your Hogwarts letter? Put on your house colors and turn your dining room into the banquet hall for the night! Do the time warp with a throwback party! 70s, 90s, even the 1800s— you can turn almost any time period into a successful party. You could pick a cult classic movie or your favorite show, choose zombies or pirates, or go with a family-friendly fall festival. The point we're trying to make here is there is no limit to the number of themes to choose from. Choose your favorite and plan accordingly! 
Movie Marathon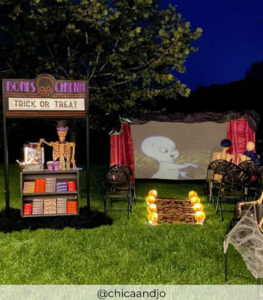 Not into big parties? That's ok! You can still be the ghostess with the mostest with a movie marathon. There is such a wide variety of movies that fit into the Halloween season, you're sure to find a great fit for your party. Slasher films, Tim Burton faves, Disney classics, or actual scary movies are just a few of the options you can choose from for a successful movie marathon! Once you've narrowed down the vibe you're going for, you need to choose just two or three movies for the actual marathon viewing. You can either do this on your own, or put it up for a vote with your guests! As far as snacks are concerned, you can keep it simple with movie theater staples like popcorn and candy, or go the extra mile and match the snacks to the movies you're watching (everyone loves a theme). When it comes to seating, just make sure there are plenty of blankets and pillows to go around! You want everyone to be comfortable and make sure everyone can see the screen. If you have a hardwood floor, consider an air mattress or pallet of blankets. If you want to set up outside, the same rules apply! If your guests are really into the movie, consider some follow-up questions or fun facts for a discussion after, or even a fun craft they can take home to remember the night.
The bottom line is you can make your Halloween party whatever you want it to be! Spooky or sweet, themed or costumeless, it's your party and you can throw it how you want to. Take some of these ideas and run with them, or make your own! No matter what you do, just have fun, boo.