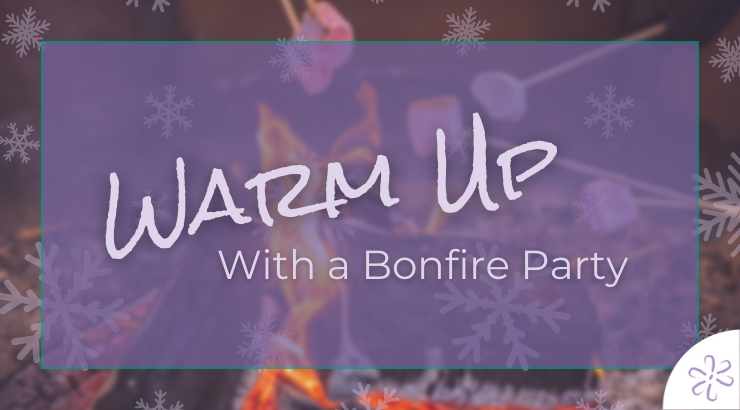 It's cold outside, but that doesn't mean the party has to stop! Nothing heats things up like a cozy bonfire party. If you think there's only one way to throw a bonfire party, we're here to tell you you're wrong (with peace and love, bestie). There are a number of ways to host a memorable bonfire party that will keep you and your guests nice and toasty. We've got some tips and tricks to help you get started!
Fire 
Let's start with the obvious; a bonfire party should include some form of fire. Even though we're calling it a bonfire party, you don't have to stick to a single, large fire! There are tons of ways to incorporate the bonfire feel into your party. Don't have the space for a giant fire? Spread out some fire pits in your yard with plenty of seating. Want to keep it indoors? Get creative and make a flame-free fire. There are even tabletop fire pit options if you're wanting more of a dinner party! Just remember that fire can be dangerous; so no matter which form you choose, play with it responsibly. Make sure you have access to a fire extinguisher, make any safety rules clear, and have enough wood to keep the fire going throughout the party. 
Food 
What is a party without food? The first thing you think of when someone says bonfire is probably s'mores. You simply cannot have a fire without also having s'mores (we don't make the rules, we just follow them). While you could offer the basic s'more ingredients, why not go the extra mile? Offer a s'mores bar with different marshmallow, cracker, and chocolate choices to give your guests unlimited possibilities. Try adding  different candy bars or fruits, using cookies instead of graham crackers, and even adding different spreads like Nutella or caramel. You could also offer a hot chocolate or cider station to keep your guests nice and warm all night long. As far as the main course goes, you can keep it simple with hot dog roasting or make it fun with campfire dinners! 
Fun
As much fun as it is to just sit in a circle and look at a fire, you might want to plan for some kind of activity for your guests. This doesn't have to be something extravagant, just an option or two to make sure everyone gets the party experience. This could be singing songs or telling ghost stories around the fire, or playing yard games. You could turn it into a movie night, or add in a fun camping-themed craft. Turn the s'mores bar into a fun competition by seeing who can make the best s'more. Take it back to summer camp and play telephone or hide and seek. Bonfire parties are perfect for getting together with your favorite people and just enjoying time together. 
You really only need to focus on a few key things to have a successful bonfire party. While they can be over the top if you prefer, a bonfire is truly the perfect option for a laid-back get together with your friends; so don't overthink it and have fun!