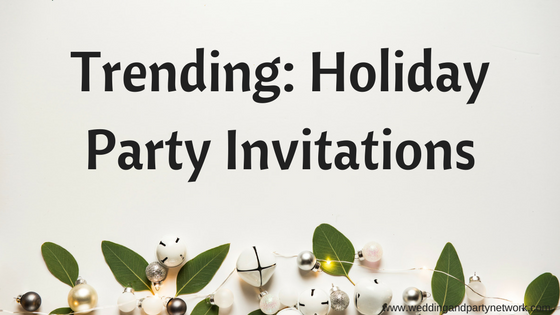 It's the most wonderful time of the year…and also the busiest! Family holiday gatherings, cooking and gift shopping might have control of your appointment book, but it's important to make time for fun and maybe even put together a little soiree of your own.
A holiday party isn't just a run of the mill weekend gathering, though. Give guests plenty of time to prepare by making it a real event with party invitations! But forget about picking up an expensive package of generic cards from a craft store. DIY is the way to go with your Christmas or New Year's party invites. It makes it much more personalized and potentially even cost efficient if you need a limited amount!
Eye-Catching Color
Start with your color scheme and the rest of the invite will fall into place. Shades of gold are trending heavily and the color works well with anything else, making it a perfect starting point. Pair it with rich greens or even silver for Christmas, and stay classic at New Year's with gold and black! Hosting a girl's only event? Rose golds, lavenders, or any pastels will chic it up with the main gold template laying a holiday foundation.
Keep It Basic
Let the design and color do all the talking and keep text to a minimum. Time, date, place, and any requirements (gift exchange, potluck, etc.) are enough to get guests ready for the event. Don't let words clutter up the invite and create no focal point. A photo background or cartoon drawings of gift boxes, trees, etc., will create a sleek design that is easy on the eyes!
Think Outside the Box
If paper invitations are just a bit too boring, spice it up a little with items your guests can use! Try a mini cupcake in a jar recipe with the party details posted on a label around the jar for a Friendsgiving event. Candy canes naturally work well for Christmas, and foil decorated party poppers for New Year's give guests a perfect way to end the night! Toying with the idea of an ugly sweater party? Create sweater shaped cutouts and decorate like an ugly sweater, or even invite your friends to decorate the invitations on their own and bring them to the party for a friendly contest.
Have fun with party invitations instead of grabbing a pack of boring cards from the store. It won't only be fun for you, it will get everybody else excited to join in on the fun to close out 2017!