No wedding or party is complete without top-notch food. But who has time to plan the wedding, organize the party and also prepare an amazing feast? Not to mention the time required to serve it to your guests. If you want the best food and service for your event, you're going to need a caterer.
And if you're in the Redmond, WA and surrounding areas, the best choice you can make is Catering By John!
Anything You Might Want
Chef John is a nationally recognized chef with a broad culinary background. You can rest assured that you are always receiving the best food available. To guarantee this, chef John buys fresh, locally grown produce to include in his signature dishes, and he pays close, personal attention to each client.
And with chef John, you'll never have wonder if you can find something to fit the spirit of your event. He can design anything from an elegant multi-course meal to a delicious country barbecue and all with the same unparalleled quality and flavor. You'll find that the menu selections are vast, so there's sure to be something for everyone!
Service You Can Depend On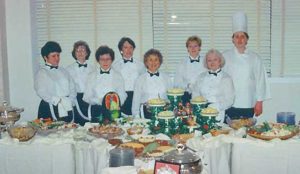 This company prides itself on only servicing one client a day. It's important to the owners so they can be onsite for each and every event. They are committed to providing you and your customers with unequaled attention and service, and that means giving your wedding or party their personal, hands-on attention.
But service means more than just ladling food onto your guests' plates. You'll get impressive presentation including embellished silver and crystal trays, baskets and mirrors with fresh flowers and greens. And all necessary linen, serving pieces and dinnerware can be provided for you!
If you want the best food and service for your guests, there's no caterer better than Catering By John!