Are you looking for someone to officiate your wedding or civil union ceremony? Do you need a minister to honor a loved one who has passed or celebrate a new life?
Regardless of your faith or spiritual affiliation, if you are in the New Jersey, Pennsylvannia or New York state areas and want to create a ceremony for any life event, you need to call Reverends Franne and Bob Demetrician!
Open To All
Revs. Franne and Bob come from two separate religious backgrounds (Rev. Franne was raised in the Jewish faith while Rev. Bob was brought up in the Christian tradition) and have used their diverse experiences to find the beauty, joy and oneness of all the world's faith and spiritual traditions.
Regardless of their own religious tradition or spiritual path, as Interfaith~Interspiritual ministers they are trained professionals dedicated to serving the spiritual needs of all those who seek their guidance, counsel, and assistance, without regard to race, religion, socioeconomic status, sexual orientation, ethnic background, gender or age.
They have chosen to learn about, respect, and appreciate the diversity of paths to the Divine, and to look for the universal truth in each one. They work as a team, as an interfaith-interspiritual couple deeply committed to bringing the richness of their unique relationship and spirituality to your personal experience.
Express Your Individuality As A Couple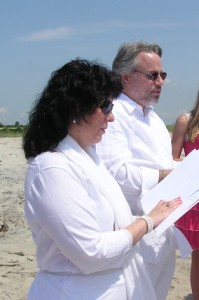 Each ceremony they create is crafted with care and consciousness, reflecting the uniqueness of your relationship as well as your personal religious tradition and spirituality. Each aspect is carefully considered and suited to your exact needs and specifications. You will receive a wedding ceremony celebrating your love as it brings joy and meaning to your day.
Working with you they will create beautiful memories for you, your family and your guests that will linger for a lifetime.
Are you looking for pre-marital counseling? Revs. Franne and Bob will explore your vision for your future together, your financial philosophy, your plans for a family, your inter-family relationships, your professional lives, and many other issues that could impact your future together.
When you want a ceremony tailored to you as a couple, you want Reverends Franne and Bob Demetrician!