The limousine is the ultimate symbol of style and class. When the goal is to impress a client, make a friend or loved one feel special or impress your date for the prom, rolling up in a sleek limo is guaranteed to get the job done. And if you're in the Kansas City, MO area, you can find everything you need at Just Take It! Limo Service!
A Legacy of Service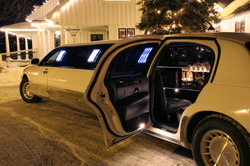 All limo companies are not the same. The best ensure their drivers are capable of meeting your every need as quickly and easily as possible. Having good drivers is an absolute must for the company that wants to stay in business, and that sustained business is exactly how you know which companies you can trust.
Just Take It has been operating for over 18 years, and their business has been successful for so long because they and their drivers focus on customer service. They know it's not enough to have a large stable of limousines, though they have that as well. Instead, their focus is on the customer, and they ensure that all of their drivers understand the importance of quality, prompt service-with-a-smile.
A Variety of Options
The beauty of a limousine lies in its spacious elegance. There's nothing better than the opportunity to stretch your legs and experience genuine comfort while being chauffeured to your destination or even just cruising around town. That's why it's important to have a limo that fits the size of your party.
At Just Take It, you not only have many options for standard and stretch limo service, they also have their new super stretch limousine that can comfortably seat up to 15 passengers! There's no need to leave anyone out when you rent this spacious and incredibly luxurious vehicle.
But what if you only have a party of two? You don't want to be forced into more than you require in a luxury car, and that's why they offer excellent smaller vehicle options such as their timeless, classic Jaguar.
So if you're looking for a limo service with high quality customer service and all the limo options you could want, contact Just Take It! Limo Service!