Whether it's traditional or something completely new and unique, each and every wedding deserves to be pulled off without a hitch. The Reverend Pamela Magnuson at Pine Manor will gladly turn every ceremony into one that will be treasured for life.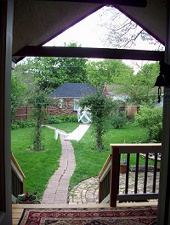 Magnuson's 1920s-styled personal residence manor in Chicago is home base for interfaith minister who connects with each couple's personalities and beliefs. A gorgeous, dark brick fireplace and woodwork can create a comforting atmosphere for your big day, or you can say your vows amidst Magnuson's garden on the manor grounds. The charm of the residence will make any wedding sparkle.
Ceremonies at Pine Manor are based on each individual's wants and needs, a philosophy Magnuson built her entire business on.
"I want to serve couples according to how they want their ceremony, not based on my secular rules," Magnuson said, adding she also wants to keep reasonable prices to keep services accessible to anyone.
Something For Every Background
Maybe you come from a Christian household and your soon-to-be spouse grew up Jewish. Looking for a way to unite both cultures? Magnuson's personal beliefs of catering to any religion makes her wedding services shine bright.
"Because of my openness, I have a wonderful skill in writing ceremonies that can incorporate two very different religions together," she said. "Recently I performed a Muslim-Jehovah Witness wedding. The trick is to get their families involved and make everyone appreciate the love the couple shares."
Even if your wedding with Magnuson isn't your first, the reverend is there for you when others may not be as open to offering a second unity. Magnuson also offers her services to same-sex couples and was one of five officiants who married such couples during an Illinois marriage equality celebration in 2014.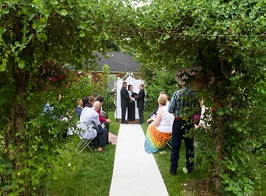 Let the Reverend Take Care of it!
You've found your location at Pine Manor, but maybe the plans of a cake, seating chart and photography just aren't coming together. No reason to stress! Magnuson has created her own packages to customize what's best for you.
These amazingly affordable packages include photography, flower arrangements, and much more! And don't even worry about the reception! Imagine saying your vows and then relaxing at dinner with unlimited house wine and personalized champagne flutes. Magnuson has thought of it all and will lead you on the path to a happy marriage.
Finding an understanding, interesting officiant who truly listens to your desires can be difficult. Pamela Magnuson, The Reverend at Pine Manor wants to take the complication out of planning your wedding.
"I take so much joy from seeing a bride and groom happy,' she said. "I believe that I have been given this opportunity to marry people to make the world happy, one couple at a time."