Are you heading to Destin, FL to tie the knot with your beloved? Congratulations, and well done on making an excellent destination choice. Beach weddings always make for beautiful memories, especially when you have the right people helping you put it together. Surfside Brides has a team of wedding specialists ready to help you plan and execute the perfect beach wedding!
A Day to Remember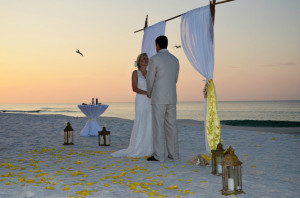 Your wedding day is one that you will remember for the rest of your life. Shouldn't it be as perfect as possible? Owner Patti Terjak and the rest of the team at Surfside think so, and they have decades of experience doing what it takes to make a bride's fondest dreams a reality. They will do everything in their power to ensure that your special day is fun, free of stress and deeply romantic. And they will help you every step of the way!
They will help you plan the ceremony, they can provide a professional photographer and they can even refer you to a wonderful reception specialist. They even handle the marriage license!
Pick A Package
If you know exactly what you want, that's great! Just let them know, and they'll help you to make it happen. But if you don't, (and really, how many of us do?) you can put together your own package from the Ala Carte menu or choose from one of the ready-made packages already optimized for price and wedding perfection!
The packages are tiered so that you can get the options you want at a price you can afford.
Sweet Love – provides you with an experienced officiate, professional photographer, the Blessing Shells ceremony and the Sand Ceremony.
Sweet Blessings – in addition to everything in the Sweet Love package, also includes a simply gorgeous beach set-up.
Sweet Forever – You get it all, including a full beach setup that will take your breath away!
A beach wedding means the warm rays of the sun on your face, the gentle caress of a salty breeze in your hair and the soft tickle of sand between your toes. Come to Destin and let the team at Surfside Brides give you the wedding you've always wanted!